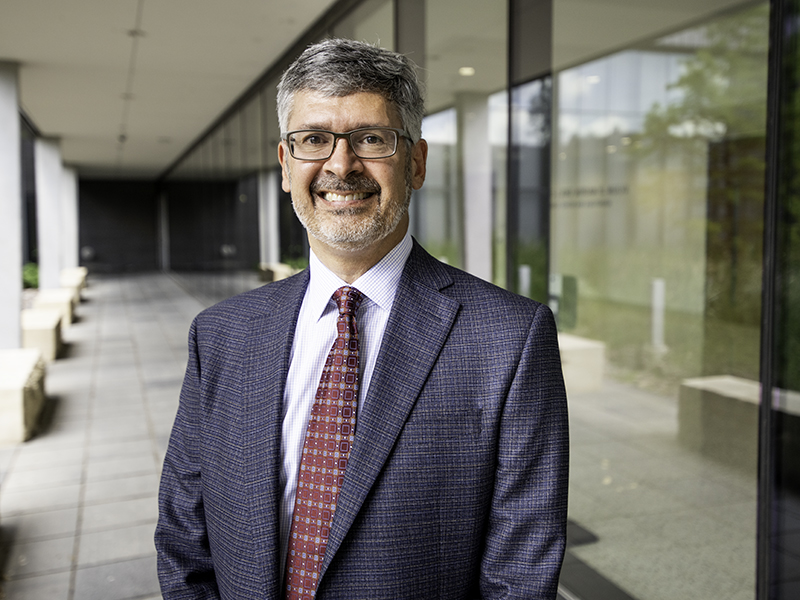 Roger T. Bonnecaze was appointed dean of the Cockrell School in June 2022. He holds the George T. and the Gladys H. Abell Endowed Chair in Engineering in the McKetta Department of Chemical Engineering. He joined the engineering faculty at UT Austin in 1993.
Prior to his appointment as dean, Bonnecaze served as interim dean of the Cockrell school from July 2021 to June 2022 and as chair of the McKetta Department of Chemical Engineering from 2005 to 2013. After his tenure as chair, he co-founded the Nanomanufacturing Systems for Mobile Computing and Energy Technologies (NASCENT) Center, the first National Science Foundation Engineering Research Center led by the Cockrell School, where he organized and led research projects with colleagues from numerous disciplines, engaged industrial partners in both research and entrepreneurial activities, and coordinated educational programs for the UT and greater Austin communities. In 2019, Bonnecaze stepped down as NASCENT's co-director to help launch SandBox Semiconductor, a startup spun out of the NASCENT Center, based on research and led by a former Ph.D. student in his research group.
Bonnecaze's research expertise includes nanomanufacturing modeling and simulation and the rheology and behavior of complex fluids. He has won numerous awards, including the NSF Young Investigator Award, the David and Lucile Packard Foundation Fellowship, the AIChE Thomas Baron Award and several teaching awards. He is a fellow of the American Physical Society, the American Institute of Chemical Engineers, the Society of Rheology and the American Association for the Advancement of Science.
He received his bachelor's degree from Cornell University and his master's degree and doctorate from the California Institute of Technology, all in chemical engineering. Prior to joining Texas Engineering, he was a postdoctoral fellow in the Department of Applied Mathematics and Theoretical Physics and the Institute of Theoretical Geophysics at the University of Cambridge.