Both the UT and Cockrell School of Engineering brands are anchored by a clear and consistent logo system. This system, developed in 2016 to project a professional image and reflect a more cohesive and collaborative campus, was implemented to help enhance Texas Engineering's global reputation and position the school as one of the world's leading centers of engineering education, research and innovation.
All UT colleges, schools and units are encouraged to adopt the logo configurations and adhere to the university's identity system.
Read the full logo guidelines at brand.utexas.edu


The University of Texas at Austin logo
The official, formal logo of The University of Texas at Austin is the primary means by which the university is recognized. It should appear on all university-wide (i.e., not affiliated with a college, school or unit) communications. The logo has been drawn and spaced with specific dimensions and should not be redrawn, stacked, modified or augmented in any way.
Supporting marks
Supporting marks are just that. In support of the university, but by no means more important. This is why they should be used secondary to the shield – meaning smaller and not in the primary location. Often they are protected marks as well. Below are the two most commonly used, please note the use of them requires approval through our trademarks portal.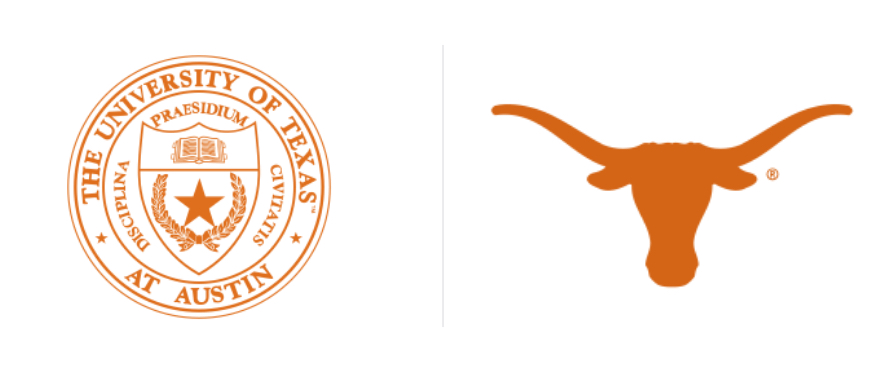 The Cockrell Logos
The official logos of the engineering programs are the primary means by which they are recognized. They should appear on all program-specific communications. The logos have been drawn and spaced with specific dimensions and should not be redrawn, stacked, modified or augmented in any way. The Cockrell logos are available to download in the Templates and Resources section.



Protect the space We don't add any words, graphics or images within a shield-height.


Options within the Cockrell School of Engineering
Formal Preferred Note while both options are available, Cockrell communications uses the formal in almost all cases.


Approved Alternates
We recognize that there are some cases where the official logo is not possible. Often this is the case for 1:1 ratio items like social and promotional items. Here are a few approved-use alternates.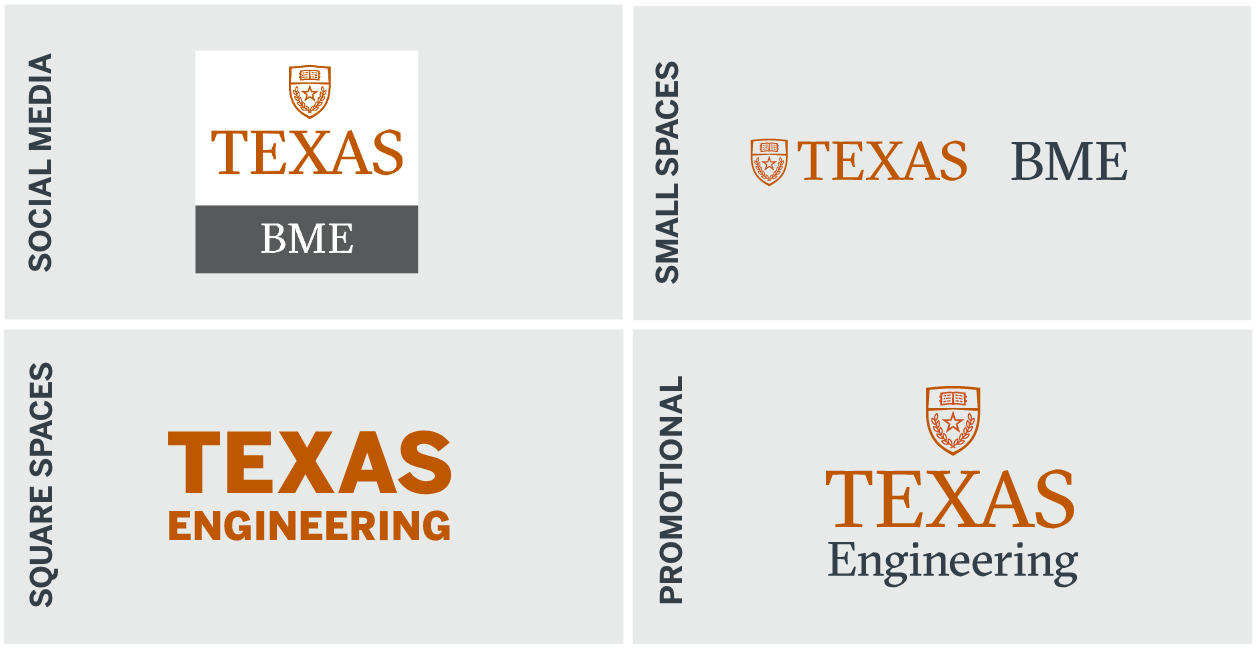 ALTERNATE MARKS Please contact our team to create and use these marks.


Collaborations
As more and more research projects move to collaborative funding and resources. We have solutions to those complex branding situations.
Internal/UT Units:

Use the primary UT logo and type to show internal partnerships within the university. This avoids "logo soup" and appearing like factions within the university to others.

External Partnerships:

Use white space to give each partner recognition. Avoid adding a line between or box around the partner logos


Have a question or need our assistance?
Contact Cockrell School Communications and Marketing at This email address is being protected from spambots. You need JavaScript enabled to view it..