K-12 Outreach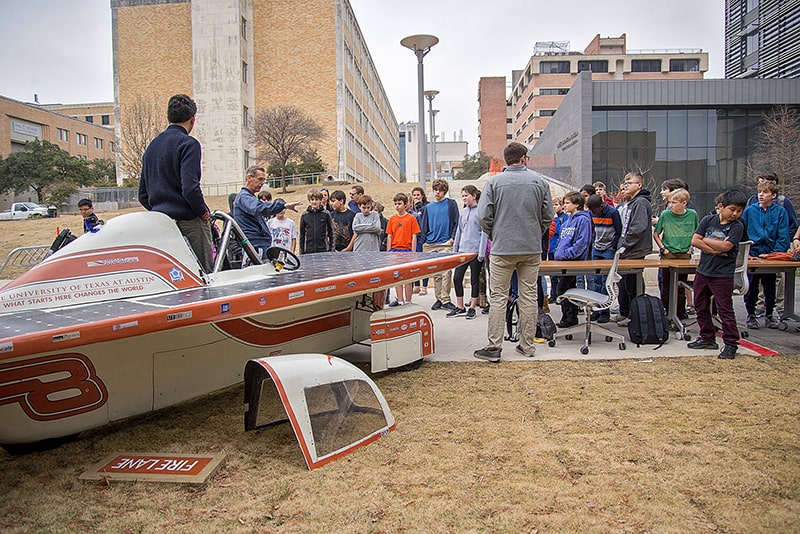 To foster diversity and inspire future generations to consider careers in engineering, the Cockrell School of Engineering hosts events and educational programs for K-12 students and teachers. From the annual Girl Day, featuring hands-on STEM activities that provide thousands of elementary and middle school students with their first glimpse of engineering at work, to our YOUatUT high school recruitment event for underrepresented students, we are working to ensure that every aspiring engineer has an opportunity to pursue an engineering path.
In addition to the programs below, Cockrell School hosts on-site visits from schools and classes, connects faculty and student ambassadors with teachers and classes and can provide information for K-12 teachers to share in their classrooms.
Programs
Girl Day
This one-day event is geared toward K-8 students and features over 150 free-flowing hands-on activities and demonstrations hosted by volunteers, student organizations, corporate partners and community organizations. Students get the chance to explore STEM topics at their own pace throughout the event. Learn more
Explore UT
The university's annual open house is a great way to learn about student groups, campus happenings, academic offerings and more. Attendees can participate in any of the nearly 400 events, activities, performances, exhibits, lectures, demonstrations and information sessions geared toward the whole family, including many Cockrell School activities. Learn more
K-5 Teacher Training
In a new pilot program developed by Texas Engineering professors, local kindergarten-through-fifth-grade teachers learn new tips and tricks for teaching STEM topics and inspiring excitement among their students. The new Research Experiences for Teachers program invites K-5 educators to the Forty Acres for seven weeks to actively engage with cutting-edge engineering and science research.
Engineer Your World
Engineer Your World is an innovative one-year high school engineering curriculum developed by the Cockrell School. The program seeks to provide high-quality, low-cost engineering education and teacher training at the high school level. Learn more
Texas Girls Collaborative Project
Led by the Women in Engineering Program, the Texas Girls Collaborative Project provides forums, curriculum, best practices and resources to foster collaborations, build capacity of participating organizations and create a state-wide network of informed and connected informal and formal STEM educators and advocates. Learn more
Edison Lecture Series
The Edison Lecture Series is an interactive STEM learning experience that engages middle and high school students with the fun side of electrical and computer engineering. Edison attendees learn the fundamentals of an engineering topic through a university-style lecture, then see these concepts come to life through hands-on demos. Learn more
My Introduction to Engineering
My Introduction to Engineering (MITE) is a free, five-day camp for current high school juniors to discover engineering through participation in an engineering team project, hands-on activities and interactions with engineering students, faculty, staff and alumni. Learn more
YOUatUT
YOUatUT is a one day pre-college event for high school students (rising 9th-12th grade students) interested in exploring the different engineering careers that The University of Texas at Austin has to offer.
Longhorn Engineering
Longhorn Engineering is a free, campus visit for underrepresented high school students interested in learning how engineering shapes our world. Learn more
Black Youth Day
Black Youth Day is a daylong event for students in grades 8-11 to learn about engineering through hands-on activities led and taught by students within their own community. Learn more
Longhorn Engineering Summer Camp
The Longhorn Engineering Summer Camp 2022 is a free, interactive learning experience that will engage rising 8th and 9th graders in activities that promote the wide impact of engineering. Campers will experience for themselves how engineering mixes with art, sports, medicine, sustainability, and more. Learn more