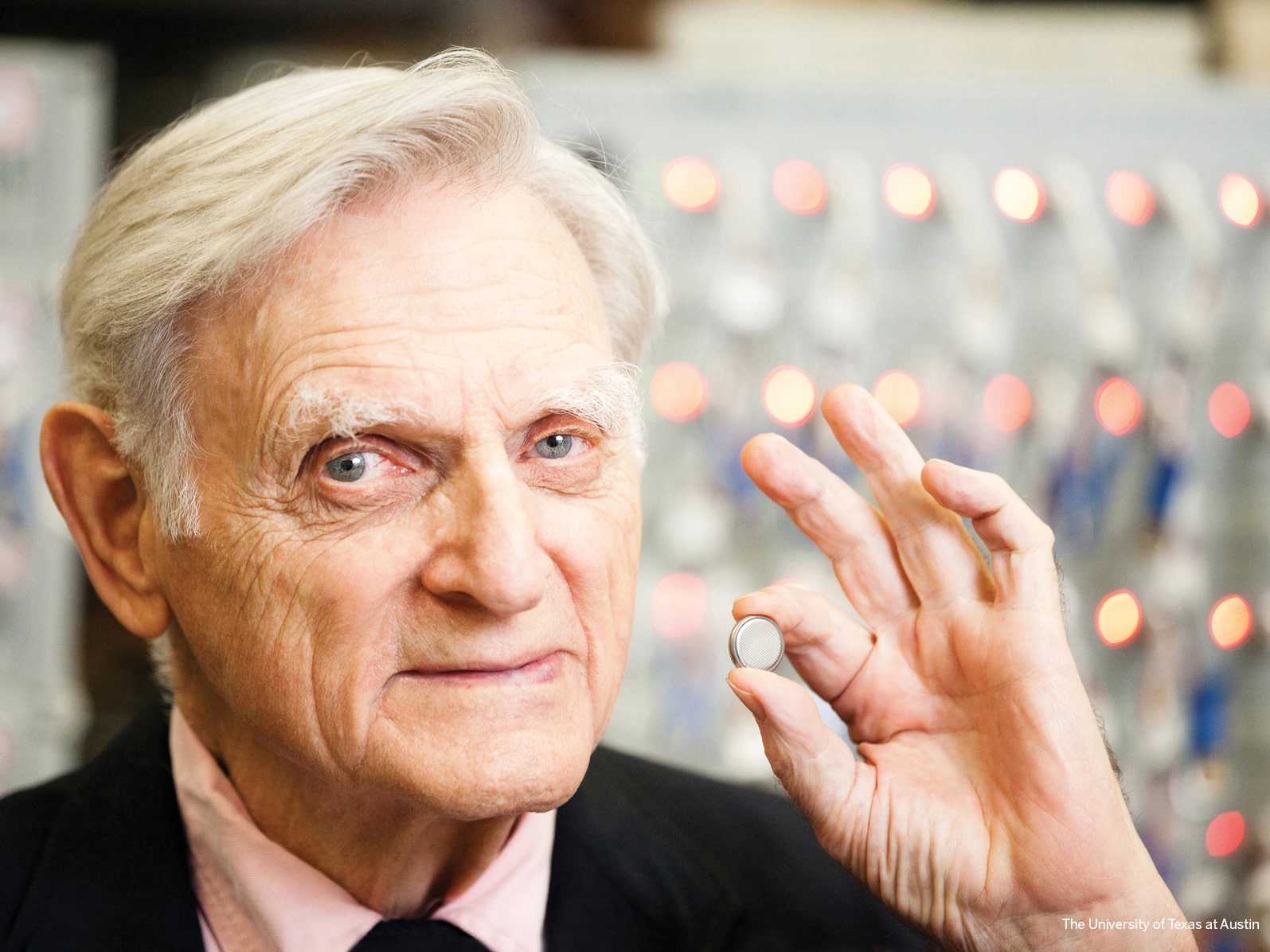 John B. Goodenough, professor in the Cockrell School of Engineering at The University of Texas at Austin, has been awarded the 2019 Nobel Prize in chemistry — jointly with Stanley Whittingham of the State University of New York at Binghamton and Akira Yoshino of Meijo University — "for the development of lithium-ion batteries."
In the words of the Nobel Foundation, "Through their work, they have created the right conditions for a wireless and fossil fuel-free society, and so brought the greatest benefit to humankind."
Goodenough, who was born in 1922, identified and developed the critical materials that provided the high-energy density needed to power portable electronics, initiating the wireless revolution. Today, batteries incorporating Goodenough's cathode materials are used worldwide for mobile phones, power tools, laptops, tablets and other wireless devices, as well as electric and hybrid vehicles.
"Billions of people around the world benefit every day from John's innovations," said Gregory L. Fenves, president of The University of Texas at Austin and former dean of the Cockrell School. "In addition to being a world-class inventor, he's an outstanding teacher, mentor and researcher. We are grateful for John's three decades of contributions to UT Austin's mission."
"Live to 97 (years old) and you can do anything," said Goodenough. "I'm honored and humbled to win the Nobel prize. I thank all my friends for the support and assistance throughout my life."
In 1979, Goodenough showed that by using lithium cobalt oxide as the cathode of a lithium-ion rechargeable battery, it would be possible to achieve a high density of stored energy with an anode other than metallic lithium. This discovery led to the development of carbon-rich materials that allow for the use of stable and manageable negative electrodes in lithium-ion batteries.
"Professor John Goodenough is an extraordinary man and engineer, and I am delighted that his world-changing work is being recognized with the Nobel Prize," said Cockrell School Dean Sharon L. Wood. "Today, everyone in the Texas Engineering community — our faculty, staff, students and alumni around the world — are proud of his accomplishment and inspired by the example he has set."
Goodenough began his career at the Massachusetts Institute of Technology's Lincoln Laboratory in 1952, where he laid the groundwork for the development of random-access memory (RAM) for the digital computer. After leaving MIT, he became professor and head of the Inorganic Chemistry Laboratory at the University of Oxford. During this time, Goodenough made the lithium-ion discovery.
After retiring from Oxford in 1986, Goodenough joined UT Austin, where he serves as the Virginia H. Cockrell Centennial Chair of Engineering in the Cockrell School. He holds faculty positions in the Walker Department of Mechanical Engineering and the Department of Electrical and Computer Engineering.
At 97 years old, Goodenough continues to push the boundaries of materials science with the goal of inventing more sustainable and energy-efficient battery materials. Goodenough and his team recently identified a new safe cathode material for use in sodium-ion batteries.
Goodenough received a bachelor's degree in mathematics from Yale University in 1944 and holds a doctorate in physics from the University of Chicago. He is the recipient of numerous national and international honors, including the Japan Prize, the Enrico Fermi Award, the Charles Stark Draper Prize and the National Medal of Science.
Goodenough joins physicist Steven Weinberg as one of two current Nobel laureates at UT Austin. Weinberg won the prize in 1979 for contributions to the theory of the unified weak and electromagnetic interaction between elementary particles. Two other UT Austin professors, both now deceased, also won Nobel Prizes: Hermann J. Muller in medicine and physiology (1946) and Ilya Prigogine in chemistry (1977). Alumnus E. Donnall Thomas won the Nobel Prize in physiology or medicine in 1990, and alumnus J.M. Coetzee won the Nobel Prize in literature in 2003. In the past two years, two UT Austin alumni have also won Nobel Prizes — Michael Young and Jim Allison, who respectively won the prize for medicine or physiology in 2017 and 2018.
The Nobels are considered to be among the most prestigious prizes in the world and have been awarded for achievements in physics, chemistry, physiology or medicine, literature and peace since 1901 by the Nobel Foundation in Stockholm, Sweden. Goodenough will receive a medal, cash prize and diploma at a ceremony in Stockholm in December.