Buildings as Living Things: 6 Questions with Fernanda Leite
August 19, 2020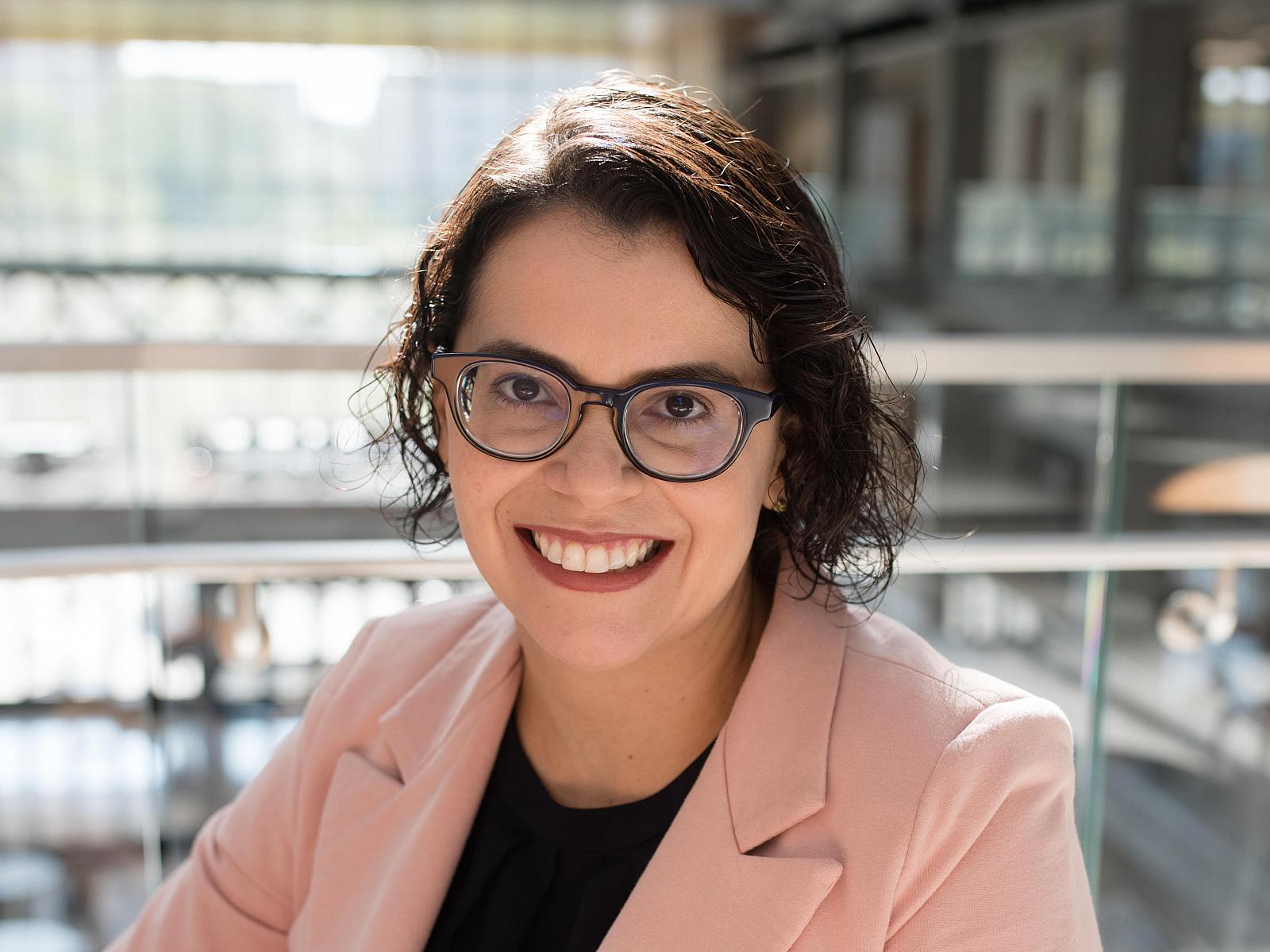 Buildings represent the backbone of the world's cities, often standing for decades, and sometimes even centuries.
However, they are far from static, changing and evolving over time the same way cities do. People and businesses move in and move out. Buildings get new paint jobs, remodels, seismic upgrades, new amenities and so many other changes during their lifetimes.
The evolution of buildings is an important aspect of Building Information Modeling, a trend in architecture and construction of creating and maintaining 3D digital representations of structures. Fernanda Leite, an associate professor in the Department of Civil, Architectural and Environmental Engineering in the Cockrell School of Engineering, has made this concept a centerpiece of her research.
She is in the midst of a multi-year project known as LivingBIM, which aims to automate Building Information Modeling using cutting-edge technology. As they've developed the project, Leite and her research team have published several papers, infusing technologies such as machine learning and neural networks to allow the platform to recognize objects and detect changes in buildings.
And the guinea pig for this project is our very own Forty Acres, The University of Texas at Austin campus. Leite and her team have published data on their findings so far, and they have ambitions to scale up the project even further, using LivingBIM to map out more buildings in more communities.
"If the ambition of LivingBIM is achieved, the costly information gathering effort in the building industry can be circumvented," Leite said. "With an accurate digital model on-hand, engineers would have all the information they need readily accessible to perform their simulations and make better decisions."
Leite is an associate editor for the international journal Automation in Construction, and last year she wrote the book BIM for Design Coordination. She is also on the executive committee of Planet Texas 2050, a university-wide initiative to tackle the environmental issues associated with rapid statewide population growth projected over the next 30 years.
We sat down with Leite to learn more about her passion for BIM, and why she thinks automation is key to its continued success.
Why did you decide to make Building Information Modeling an important focus of your research?
Digital technology is fundamental. With it, we can move information faster, augment our memory and our ability to think. Companies in almost every industry are developing these digital capabilities and Building Information Modeling is the building industry's contribution to this digitization trend. Through our research, we hope to provide new tools that give architects, engineers, contractors and facility managers more control over the built environment by enabling new forms of simulation, automation and information sharing.
Why does BIM need to be automated?
There are more than $200 trillion worth of buildings around the world. These buildings are designed to be useful for decades, with many buildings in the world still operating after centuries. It is this enormous scale that makes automation necessary. In order to improve the accessibility of infrastructure information, we need a level of discipline and standardization that only automated systems can provide.
The poetic title of this research project – LivingBIM – was originally conceived as an analogy to thinking about buildings as living organisms. Throughout their long lifespans, buildings likely undergo numerous changes and renovations. So, the research is trying to address how we can facilitate the upkeep of the digital twin for a physical building by leveraging automation. The upkeep challenge stems from facility owners and managers typically not having the in-house capabilities to maintain 3D models. Hence, we wanted to remove this barrier by automating the upkeep process, enabling BIM to be used throughout the entire lifecycle of facilities.
Are there other efforts out there to do what you are doing? How is this project different?
As a researcher, there is nothing worse than spending several years developing a technology only to discover you have reinvented the wheel. So, it's important to begin any research and development project with a thorough review of the literature and prior art. During our survey, we discovered that most other projects have a narrow focus like walls, floors, ceilings or windows, and doors. We wanted to expand the scope of these automated processing capabilities to a comprehensive set of building components.
Tell us more about the technology used to make LivingBIM work?
Deep learning is a subfield of machine learning concerned with algorithms called artificial neural networks. These networks were inspired by the structure and function of the brain, and have been kicking around as a dream in academia since anastomotic reticulum and the days of cybernetics. Only recently has the processing power of computers caught up with the ambitions of artificial intelligence. Since 2012, artificial neural networks have experienced a surge in popularity and have demonstrated a degree of versatility and performance that has captivated the imagination of the world. Being in Austin, the Texas Advanced Computer Center has been instrumental in our success and we are so thankful for the continued support of the National Science Foundation, which has provided us access to high-performance computing resources.
You've been using some of UT's buildings to experiment with your project. In that time, what have you learned about our buildings?
The first thing that took us by surprise is the sheer number of buildings that are part of the Forty Acres. We always knew our campus was big, but when scouting for potential data-collection locations, we were still amazed to find we had 230 buildings to work with. This scale allowed us to create a dataset with a level of diversity that simply could not have been created on a smaller campus.
The second thing we learned, which was absolutely essential to the success of our project, is that many of our engineering buildings contained exposed buildings systems. You see, most office buildings consider building systems to be an eye-sore and hide them from their tenants behind suspended ceilings. Fortunately, UT decided to keep many of these building systems exposed as a teaching tool; to give students a better idea of the components required to make buildings work. One example is Texas Inventionworks in the Engineering Education and Research Center. And it was this decision that allowed our team to digitize these systems in a one-of-a-kind dataset, which we have released publicly so that other researchers can benefit as well. For a more radical example of exposing building systems, take a look at Architect Renzo Piano's Centre Georges Pompidou, in Paris, France.
What are the next steps for further improving LivingBIM?
In the world of deep learning, training data is everything. The larger the dataset the better. The more diverse the dataset the better. As a community, we are beginning to recognize that our success is predicated on our ability to share and collaborate. Next steps for LivingBIM will be participating in community-scale efforts and using these new massive datasets to push our algorithms to greater heights of performance.