The University of Texas at Austin's Center for Dynamics and Control of Materials (CDCM), a National Science Foundation Materials Research Science and Engineering Center (MRSEC), is partnering with Texas State University to establish the Center for Intelligent Materials Assembly. The new center is being developed through an NSF Partnerships for Research and Education in Materials (PREM) grant.
Led by Texas State associate professor Tania Betancourt, the new Center for Intelligent Materials Assembly will promote recruitment, retention and degree attainment of a diverse student cohort with a pathway into advanced degrees and careers in materials science.
The partnership will conduct research in areas of reconfigurable soft materials and nanostructure control to develop advanced materials for applications including biomedicine, water purification, chemical fuel generation from renewable energy sources and nanoelectronics. Participating students will experience high-impact research, mentorship by UT and Texas State faculty members, professional development and a supportive community.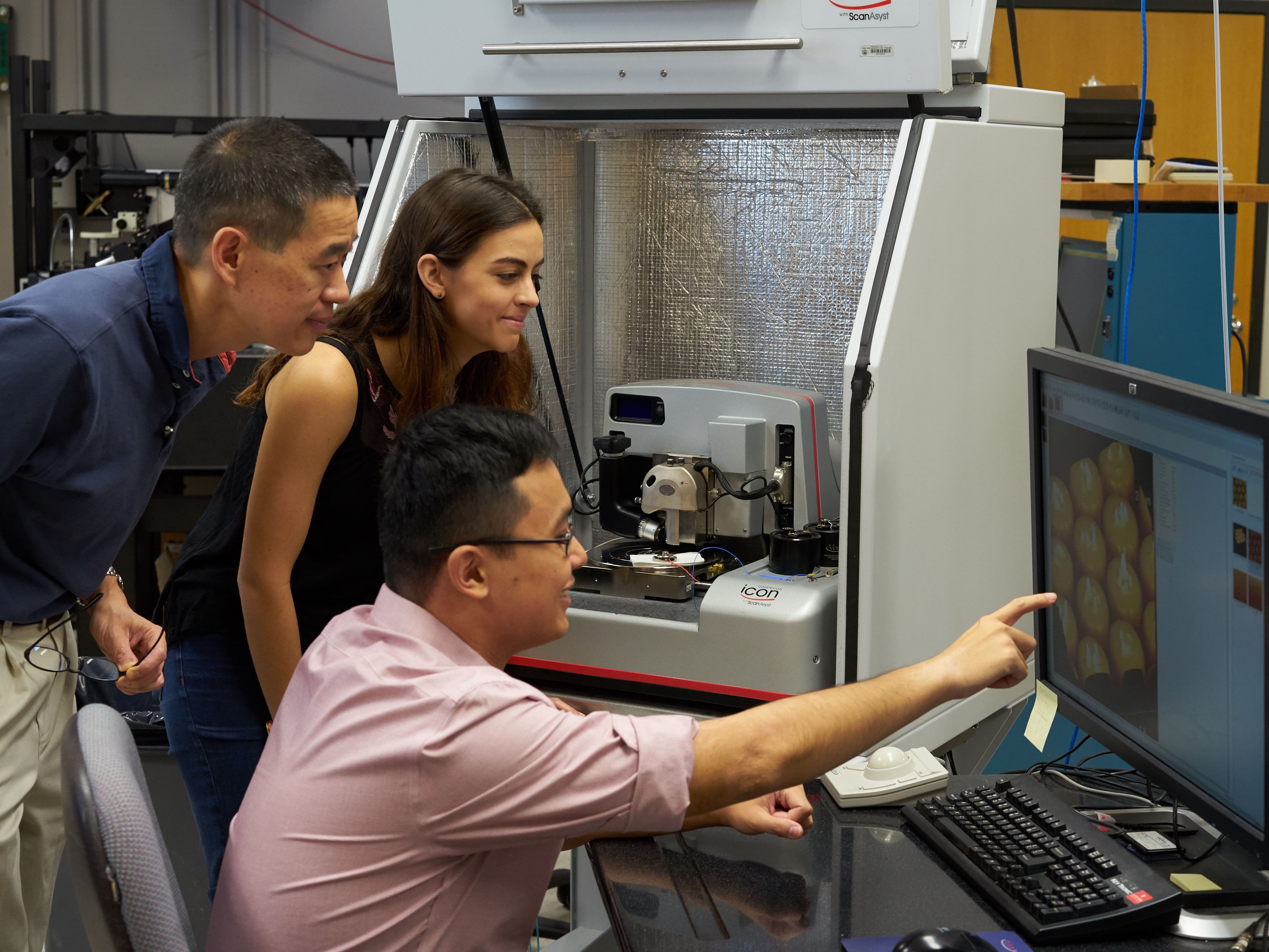 "We are excited to partner with Texas State on this program to help more students learn about and study materials science and engineering," said Edward Yu, professor in the Cockrell School's Department of Electrical and Computer Engineering who leads UT's CDCM. "This new partnership will expand the work we are doing in CDCM and we look forward to supporting efforts to recruit and retain a more diverse student population in this area."
Specifically, CDCM's role in this new partnership includes:
Hosting several PREM undergraduates from Texas State each year in the CDCM summer Research Experiences for Undergraduates program to conduct research with a CDCM graduate student and faculty mentor.
Hosting PREM students involved in PREM collaborative research to conduct parts of their work in UT faculty labs or UT's shared research facilities and to participate in social and professional development activities organized by CDCM.
Regular visits and exchanges of graduate students and faculty between UT and Texas State for research, seminars and student recruitment.
Initiating an undergraduate research internship program for UT undergraduates from underrepresented groups to participate in materials-related research in CDCM faculty labs
"The main idea is to allow students to see their own potential and scientists and engineers," Betancourt said. "By feeling that they're part of this research community, our hope is that they will stay engaged and be successful in their classes, graduate and pursue graduate degrees in the field."
The six-year, $4 million grant, supported by NSF's Division of Materials Research, is designed to foster a materials research partnership between a minority-serving institution and a large-scale research facility. The PREM pathway encourages a diverse cohort of young scientists and engineers to stay in materials research through graduation and move on to pursue higher education and rewarding careers in the field.
"A focus on diversity of students, faculty and partners — paired with the revitalization of under-resourced research — is the foundation of PREM and has been the source of many successful outcomes," said Debasis Majumdar, director of the NSF PREM program. "It expands national innovation capacity and a much needed, highly trained and diverse workforce, propelling U.S. leadership in STEM fields."
U.S. Sen. John Cornyn and U.S. Rep. Lloyd Doggett voiced their support for the new Center for Intelligent Materials Assembly:
"Investing in Texas higher education will provide our students with invaluable skills and resources now and keep Texas' economy strong in the future," Sen. Cornyn said. "I applaud this announcement and will continue to do everything I can to help students at Texas State University."
"These funds will ensure students at Texas State and the University of Texas have more opportunities to contribute to groundbreaking research," Rep. Doggett said. "The solutions of tomorrow will be found by students of today. And with Central Texas a leader in innovation, many of those solutions will be found here."
The university's Center for Dynamics and Control of Materials is a multidisciplinary NSF MRSEC that seeks to extend the traditional paradigm of materials research beyond the study of behavior in or near equilibrium to encompass the understanding and control of materials over extended temporal and spatial scales. In addition to community outreach through hands-on demonstrations and collaborations with elementary school teachers, the center supports research on nanocomposite materials that combine inorganic and organic components, with applications in energy storage and filtration membranes, and on approaches for exploiting light to achieve dynamic, quantum control of materials.