Rock Star: Texas Engineer Examines Complex Underground Natural Resources
June 06, 2022
What do you get when you cross a geologist and a mathematician? A rock physicist of course.
No that's not some kind of cheesy joke that flew over your head; it's the background of Zoya Heidari. She grew up hiking with her family, and her geologist dad had a habit of picking up random rocks off the trail and listing off everything he knew about them, which was a lot.
It's no wonder that Heidari took an interest in rocks as part of her career. But she got there in something of an unconventional way, which is appropriate given her focus on the unconventional areas of the field she eventually settled into after exploring many disciplines.
Heidari is an associate professor in the Cockrell School's Hildebrand Department of Petroleum and Geosystems Engineering. Her focus is on formation evaluation, the study of subsurface conditions and properties to optimize for extracting oil, gas, water and other resources from the earth.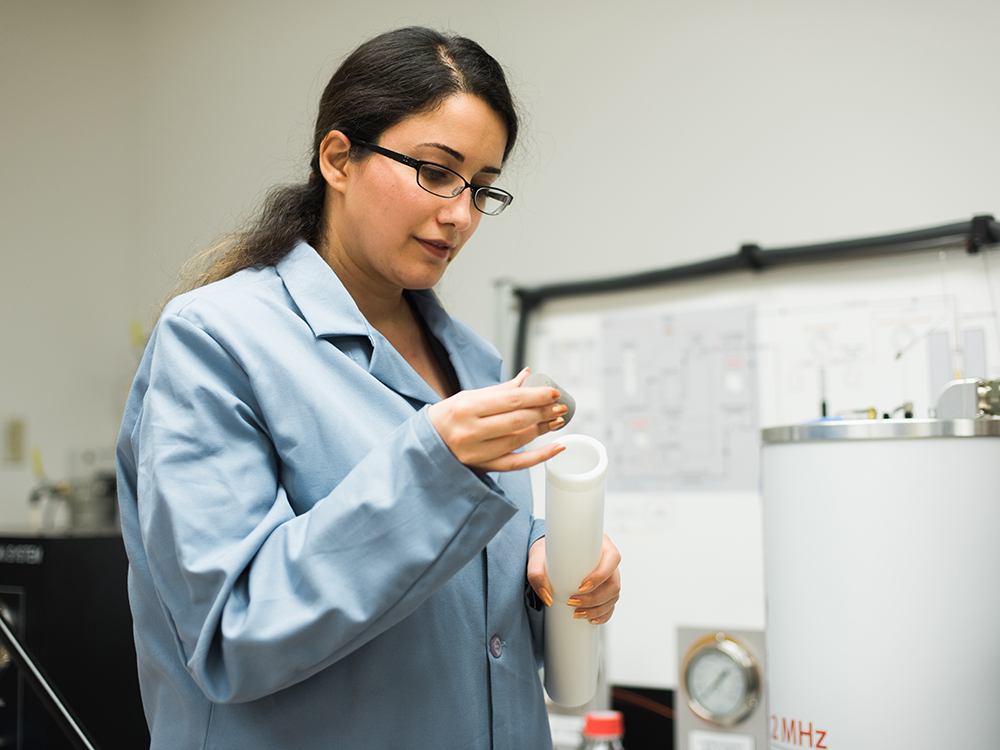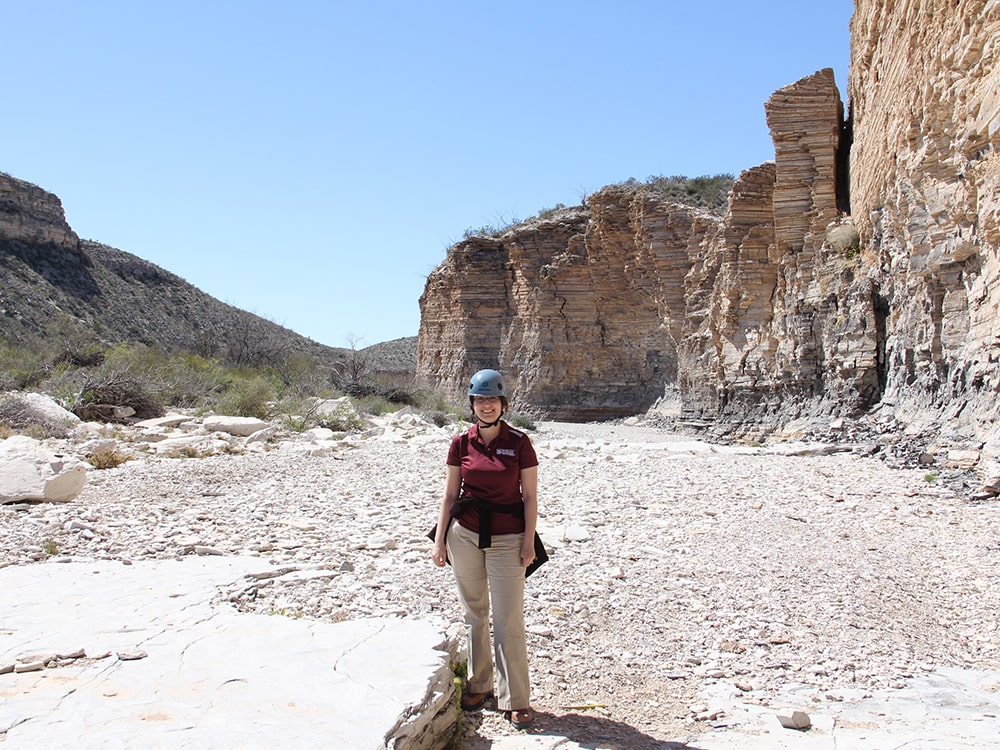 Heidari's research analyzes unconventional rocks and reservoirs, blending experimental and computational techniques to quantify their petrophysical properties and potential for fluid flow and production.
"The type of rocks we work with are very challenging rocks," she said. "Conventional techniques in formation evaluation often fail in these types of rocks."
Heidari is the founder and the director of the Multi-Scale Rock Physics Research Program, an industrial affiliates program in the Center for Subsurface Energy and the Environment. She founded the program in 2016, soon after moving to UT from Texas A&M University, where she founded and then directed the joint industry research program on multi-scale formation evaluation of unconventional and carbonate reservoirs from 2012 to 2015.
Heidari and the researchers in the program have brought in more than $11.5 million in combined funding during her time at UT Austin and A&M. They've published more than 190 papers, won numerous awards and filed for two patents. Heidari has mentored nearly 45 future petrophysicists, rock physicists, geoscientists and petroleum engineers, in her research group.
Growing up, she fell in love with the sky and wanted to become an astrophysicist. Physics became a passion at a young age for Heidari, but at the same time, an engineer began to develop. She once tried to make her own telescope, rubbing a piece of glass patiently with her hands for a long time to make a concave mirror.
Heidari's curiosity and desire to understand the building blocks of the world brought her to mechanical engineering. She hopped around various subdisciplines, including fluid mechanics, solid mechanics, robotics and inverse problems, artificial intelligence and biomechanics, before eventually settling on investigating the mechanical properties of bones and analyzing measurements performed on soft and hard tissues of human body.
After completing her undergraduate and master's degrees in mechanical engineering, she was introduced to the world of formation evaluation. The idea of studying rocks intrigued Heidari, given her background, and the similar principles governing subsurface rocks and porous media in the human body.
Both could not be seen from the surface and need indirect measurements and special interpretation methods for discovery and diagnostics. Always interested in new fields, Heidari dove right in.
"It was cool for me to be able to diagnose what is happening in a media that you cannot see with your eyes, and I liked the idea of developing tools to observe those things in an indirect way," she said.
Heidari reached out to Carlos Torres-Verdin, a petroleum engineering professor who leads a long-running research consortium on formation evaluation at UT Austin, and got a spot on the research team. She earned her Ph.D. at UT Austin, before heading to Texas A&M as an assistant professor.
Coming back to UT Austin was not something she necessarily planned to do, but since returning, Heidari has made major headway in understanding complex rocks.
In the context of this field, complexity occurs when pores that liquids flow in and out of are differently sized throughout the rocks, are connected through extremely small pathways or inconsistent in their spacing apart from one another. Another example of complexity stems from the variety of solid and fluid components in the rocks and the way they are interacting. Typical formation evaluation techniques struggle to yield accurate information about these types of rocks.
Heidari and her team have developed new ways to adequately measure and quantify these complexities. These techniques apply to shale formations, which are an important source for natural oil and natural gas. They're also relevant to spatially heterogeneous carbonate formations with complex pore structure and mineralogy. In addition to the aforementioned complex and unconventional formations, the new methods developed by Heidari's team also apply to conventional rocks.
"We have demonstrated the impact of geochemistry on formation evaluation efforts," Heidari said. "Quantitatively taking into account that rocks' geochemistry is critical in understanding hydrocarbon production and also predicting water production, which is a big deal in shale reservoirs and in the Permian Basin in particular."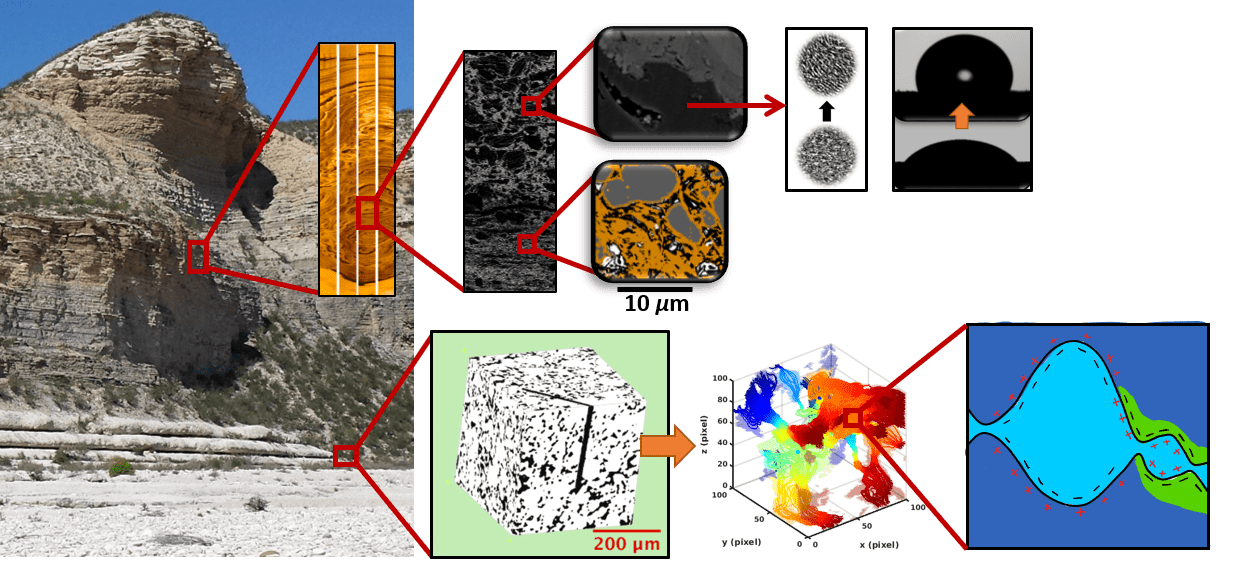 The researchers are also working on technologies such as algorithms and workflows that make it easy for folks in the petroleum industry to integrate the new rock physics analysis techniques into their operations. That will make it easier for them to navigate complex rocks and reservoirs in the field.
Heidari will continue her work in these areas, but she is also eyeing another research focus on the horizon — design and develop devices and instruments for characterization of complex rocks both in the sub-surface and in the laboratory. Specifically, she is looking at devices and instruments as they relate to geothermal energy, which some experts consider to be the next big thing in the industry.
She sees a big opportunity in that field because many of the devices created to analyze resource extraction don't work well for geothermal systems. To extract that type of energy requires drilling much deeper, and many instruments can't stand the heat. Heidari's unconventional path to her field and her expertise in challenging rocks and conditions set her up to find a solution.
"Going in that direction is exciting," Heidari said. "It opens up new techniques for collecting data to better understand certain properties of rocks that we are not able to directly measure right now."