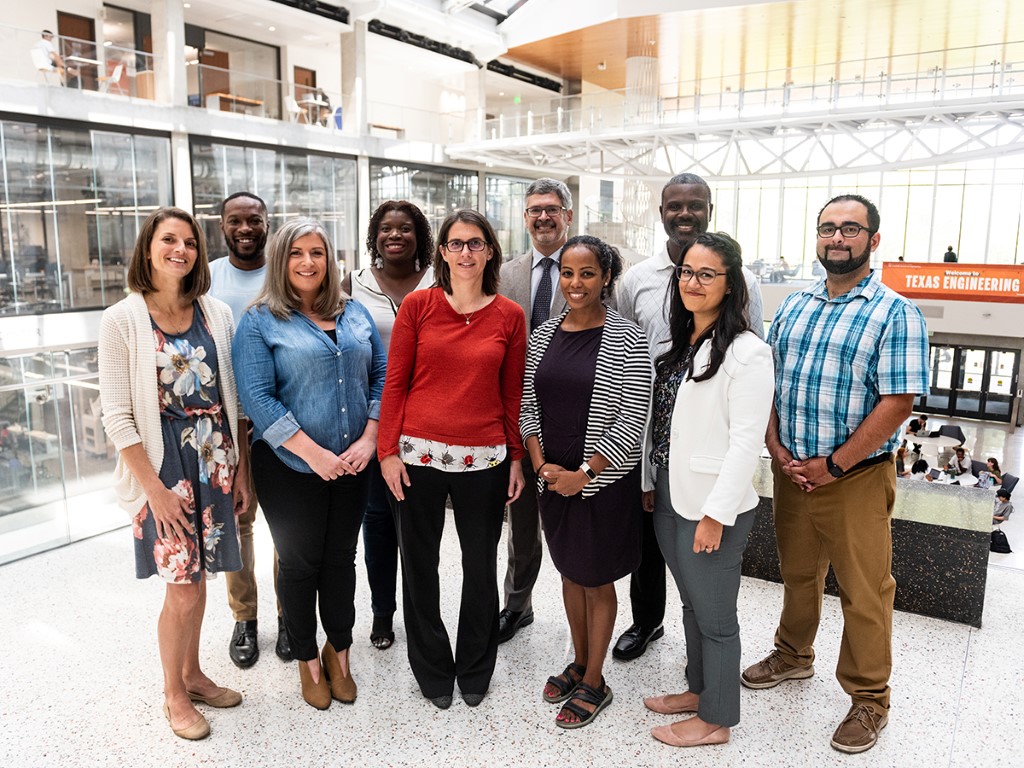 The engineering industry as a whole has struggled for decades with issues of equity and representation. A new center at The University of Texas at Austin is looking to change that at the academic level by recruiting a more diverse group of students and working closely with universities that serve primarily Hispanic and Black students.
The new Center for Equity in Engineering aims to change the culture in the Cockrell School of Engineering by making diversity, equity and inclusion work a collective charge at all levels, from students to faculty to staff and leadership. This work will become a regular part of everyone's job duties, and the new center, funded by a grant from the National Science Foundation, will serve as the infrastructure to support that. The center brings together members of the Cockrell School's Office of Diversity, Equity and Inclusion (DEI) and Texas Engineering Diversity and Engagement and includes participation of faculty and staff from across the Cockrell School.
"At the Cockrell School we are fully committed to creating a welcoming, diverse and inclusive environment, where students from all backgrounds feel safe and accepted in their pursuit of engineering," said Roger Bonnecaze, dean of the Cockrell School of Engineering.
One of the main goals of the center is to bring the engineering student body closer to the demographics of the state population. There is a significant gap to overcome.
According to state population estimates, 45% of Texans between the ages of 18 and 24 are Hispanic. In the Cockrell School, Hispanic students represent 22% of engineering undergraduate students and only 7% of engineering graduate students. Black students represent only about 5% of engineering undergraduate students in the Cockrell School and 2% of graduate students, compared to 13% of the population aged 18-24 in the state.
"We are a state institution, and we are here to serve residents in the state of Texas and beyond," said Christine Julien, professor and the Cockrell School's associate dean of diversity, equity, and inclusion. "If we're not doing that equitably, we aren't doing our job."
Recruiting and retaining a more diverse group of students is the primary way to get the student population more in line with state demographics. On the recruitment side, that means outreach to students in middle and high school, as well as their families, to keep engineering top of mind as they go through college prep.
On the retention side, the center's leaders want to take cues from institutions that have long successfully served Black and Hispanic students. As part of the project, the researchers are working with teams from UT El Paso, UT San Antonio, and Prairie View A&M University.
Center leaders want to learn from these institutions — what's working in these institutions for retaining diverse groups of students, and how they can apply those at UT Austin.
"This is a timely and exciting opportunity for our school of engineering and I am thrilled to work with colleagues that are some of the most passionate about creating an inclusive learning environment for all our students and a place where all faculty and staff can have long and thriving careers," said Lydia Contreras," professor in the McKetta Department of Chemical Engineering and one of the center's leaders.
Within this larger goal of attracting and retaining students of diverse backgrounds are three pillars of action:
New and expanded student, staff and faculty learning opportunities around integrating equity and inclusion into professional engineering settings, teaching and day-to-day life at the university. Examples of learning opportunities include faculty DEI workshops, leadership training in outreach, new undergraduate and graduate DEI certificates and DEI training needs.
Support structures that value equity and inclusion to create opportunities for participation in outreach and recruiting events and assistance in developing new initiatives envisioned by members of the Texas Engineering community. One example is a new DEI seed grant program to help faculty broaden participation among different groups in proposals to funding agencies.
Improved and expanded expectations and accountability for all members of the Texas Engineering community, including revisions to student learning outcomes, faculty review processes, staff job descriptions and recognitions for efforts above and beyond.
The researchers plan to share what they've learned with others via presentations, workshops and publications so that best practices can be applied elsewhere in the university and beyond.
They've already put the wheels in motion on several initiatives, including the seed grant program; hosting summer camps and open houses for K-12 students, incorporating new curriculum elements; instituting a mentorship program for first-year graduate students; planning site visits at partner institutions; providing faculty and teaching assistants with resources for inclusive teaching and participating in a partnership with the National GEM Consortium's Getting Ready for Advanced Degrees Lab.
The area leads on the project are Raissa Douglas Ferron (Civil, Architectural and Environmental Engineering), undergraduate student initiatives; Tyrone Porter (Biomedical Engineering) and Maša Prodanovic (Petroleum and Geosystems Engineering) graduate students; Gabriella Coloyan Fleming (Center for Equity in Engineering), staff; Audrey Boklage (Center for Engineering Education) and Lydia Contreras (Chemical Engineering), faculty; Maura Borrego (Mechanical Engineering and Center for Engineering Education), research. The external advisory board includes Ben Flores from the University of Texas El Paso; Darren Kelly from UT Austin's Division of Diversity and Community Engagement; Pamela Obiomon from Prairie View A&M University; Mark Appleford from The University of Texas San Antonio; and Sarah Rodriguez Jones, Virginia Tech.