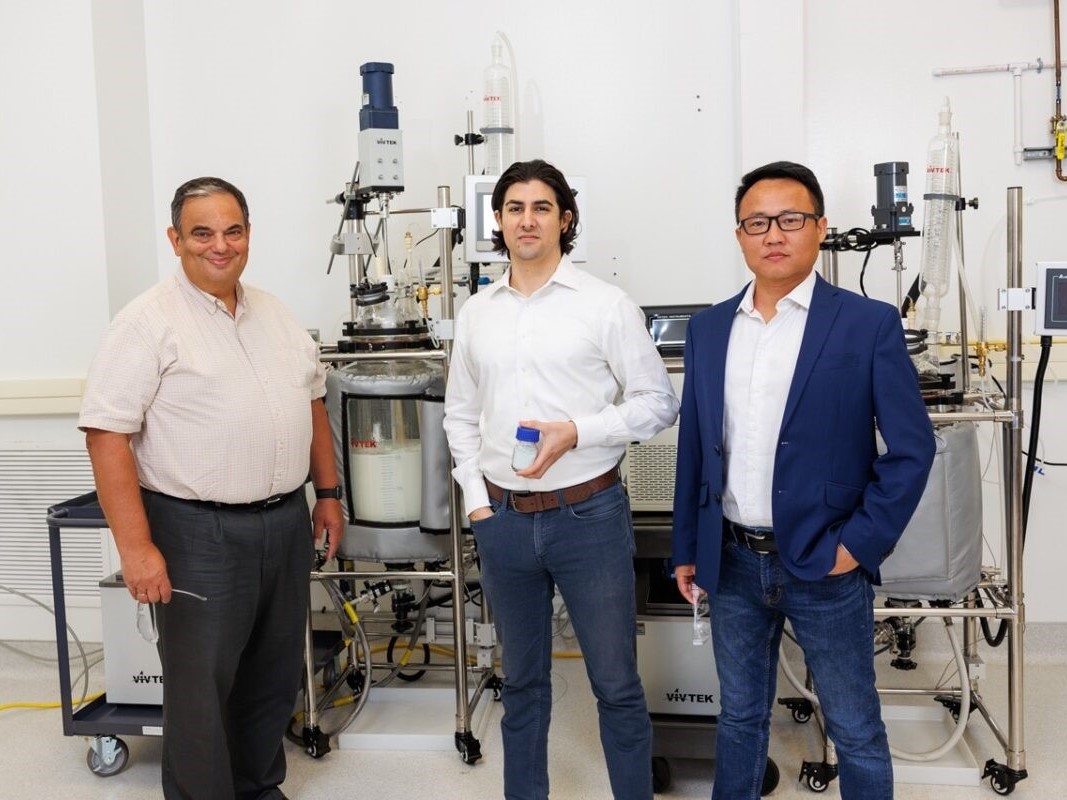 A startup born out of the late 2019 Nobel laureate Professor John Goodenough's lab that is developing a cost-effective alternative to lithium-ion batteries is getting support from Discovery to Impact, The University of Texas at Austin's research commercialization group.
Group1 will commercially produce potassium-ion batteries (KIBs), an energy storage solution free of critical minerals such as lithium, cobalt, nickel and copper, while facilitating domestic manufacturing and further strengthening U.S. energy security. The investment will help Group1 increase its workforce, expand production capacity of its product potassium cathode material, Kristonite, to pilot scale, and forge business partnerships with Tier1 cell and automotive manufacturers that wish to establish a domestic, "lithium alternative" solution.
This is the fourth investment made by UT's $10 million Seed Fund, which is managed by Discovery to Impact. The fund invests in the most promising new startups built on University-owned intellectual property emerging from UT's research enterprise.
"This investment in Group1 is a testament to the University's dedication to expanding research commercialization across campus and leveraging the immense and growing intellectual talent of UT Austin and its affiliates," said Christine Dixon Thiesing, associate vice president of Discovery to Impact. "We are a world-class university located in the heart of Austin, Texas — a booming technology and innovation hub and a vibrant and dynamic city — at the forefront of the 21st century's emerging knowledge-based economy. We are excited about our partnership with Group1 and wish the Group1 team continued success."
Group1 employs several UT alumni and affiliates — including employees who worked in Goodenough's famed lab, where many of today's lithium-ion batteries innovations were invented. Leigang Xue, Group1's chief product officer and co-founder, invented the core KPW technology during his time at UT as a postdoctoral researcher in Goodenough's lab. In addition, he is also a visiting scholar at the Texas Materials Institute. Group1 has further developed KIB core technology and has established a world-leading IP position, which includes an exclusive license from UT Austin.
Group1's product, Kristonite, a 4V cathode material — Potassium Prussian White — enables KIBs that can deliver faster charging with enhanced safety and higher energy density when compared with lithium iron phosphate-based lithium-ion batteries or sodium-ion batteries, making them the future of the energy industry. To date, Group1 has raised $7.5 million to bring KIB technology to market and is currently in the early phases of engagement with leading supply-chain partners and several of the largest and most reputable cell manufacturers in the U.S. and around the world.
"Group1 is pleased with UT Austin's investment into Group1. It will enable the commercialization of ground-breaking battery technology that reduces U.S. reliance on critical minerals that are chiefly sourced from conflict regions or countries suffering geopolitical unrest," said Alex Girau, CEO and co-founder of Group1 and an Energy Transition fellow at the Energy Institute. "We are proud to be based in the battery capital of the world, Austin, Texas, and to further strengthen our ties with a world-renowned institution such as UT Austin."
For more information about Group1, visit group1.ai. For more information about Discovery to Impact, visit discoveries.utexas.edu.