The Cockrell School of Engineering is comprised of 8,960 community members. Among Cockrell students, staff and faculty, we received 1,556 responses to our Climate Survey distributed in March 2021. Climate Survey responses represent a diverse array of voices from our community members, including, but not limited to dis/ability status, gender identity and expression, LGBTQ+, race, nationality and veteran status.
Revisiting our 2020-21 Diversity, Equity, and Inclusion Plan, the Cockrell School emphasizes that promoting diversity includes embracing the unique differences and contributions of each individual in our community, including recognizing and supporting individuals' multiple and intersecting identities.
A Closer Look at Climate Survey Response Rates:
181 out of 2801 Cockrell faculty completed the climate survey — 65%
298 out of 680 Cockrell staff completed the climate survey — 44%
1,058 out of 8,000 Cockrell students (6,000 undergraduate and 2,000 graduate students) completed the climate survey — 13%:

Undergraduates = 732
Master's students = 89
Ph.D. students = 237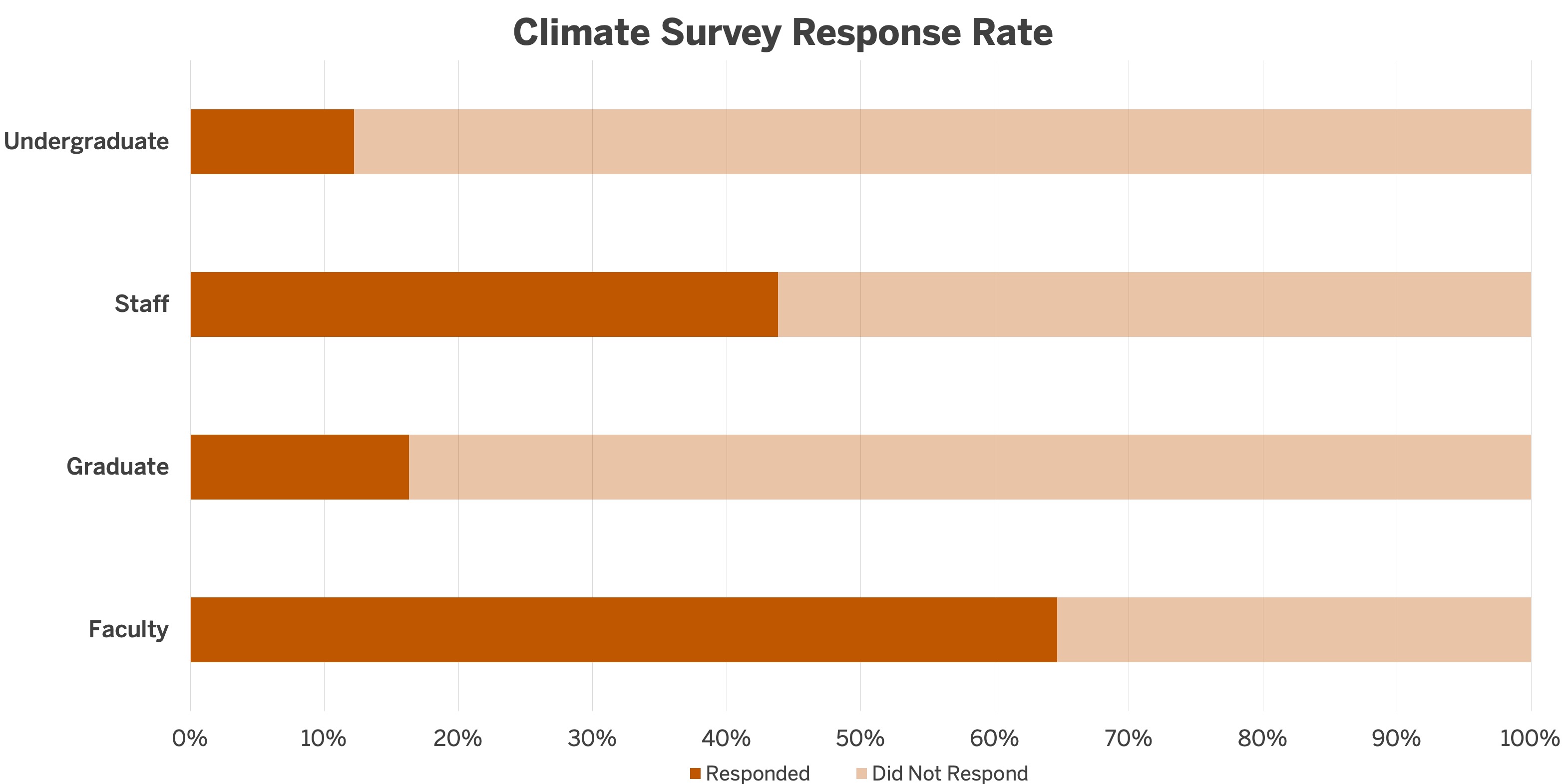 1 Cockrell School Facts and Rankings webpage
Across all Climate Survey responses, four central themes emerged:
To what extent, if at all, should diversity be considered imperative to the success of our campus community in the Cockrell School
Sense of belonging
Facing a welcoming climate
Impact of COVID-19
The quantitative findings from the climate survey cover demographics among those who responded and means for selected items. Both quantitative and qualitative data show the potential to shape a common ground for outlining next steps.
Theme 1: Diversity Imperative
Overall, consistent and strong agreement that diversity is important to the success of the Cockrell School.
From written comments, it is clear that we do not have consensus on definitions or dimensions of desired diversity in the Cockrell School. LGBTQ+ and disability are not emphasized enough. Some members of the Cockrell School believe there is too much emphasis on diversity, equity and inclusion or that diversity is incompatible with excellence.
The chart below shows four categories of undergrad, grads, faculty and staff. Within these categories, there were significant differences by gender identity for faculty, undergrads and grads, and by race for graduate students.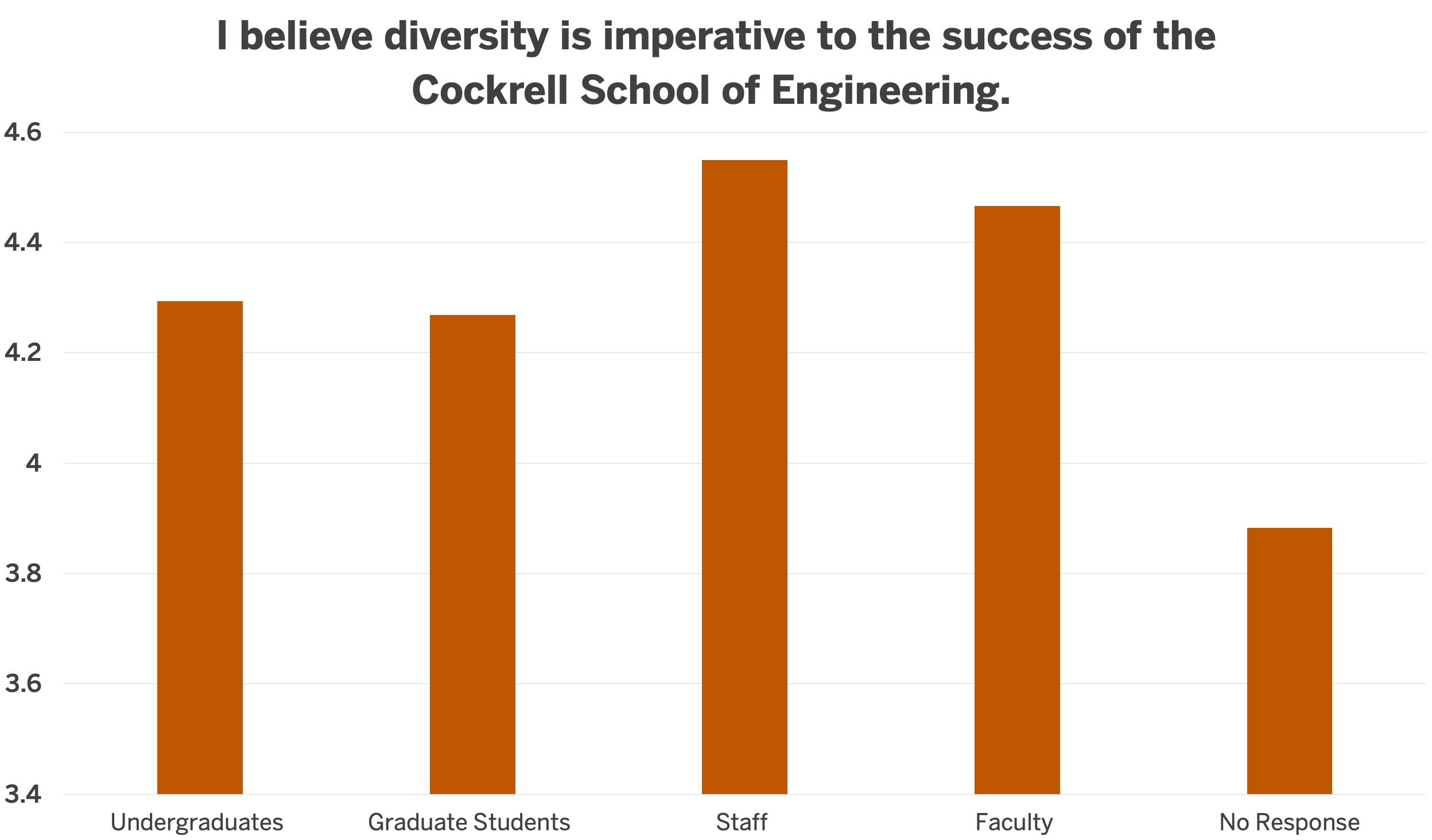 Note: 1 = strongly disagree, 2 = agree, 3 = neutral, 4 = agree, 5 = strongly agree
Theme 2: Sense of Belonging
Although the average responses to sense of belonging indicate agreement in experiencing a sense of belonging, many in the Cockrell School are feeling disconnected, overworked and underappreciated. Resource constraints and COVID-19-related remote work exacerbate the situation. Staff, in particular, feel they are expected to take on more and more responsibilities with fewer resources, rewards or gratitude.
Within all four categories (UG, grad, staff and faculty) there are statistically significant differences by gender identity but not race-ethnicity.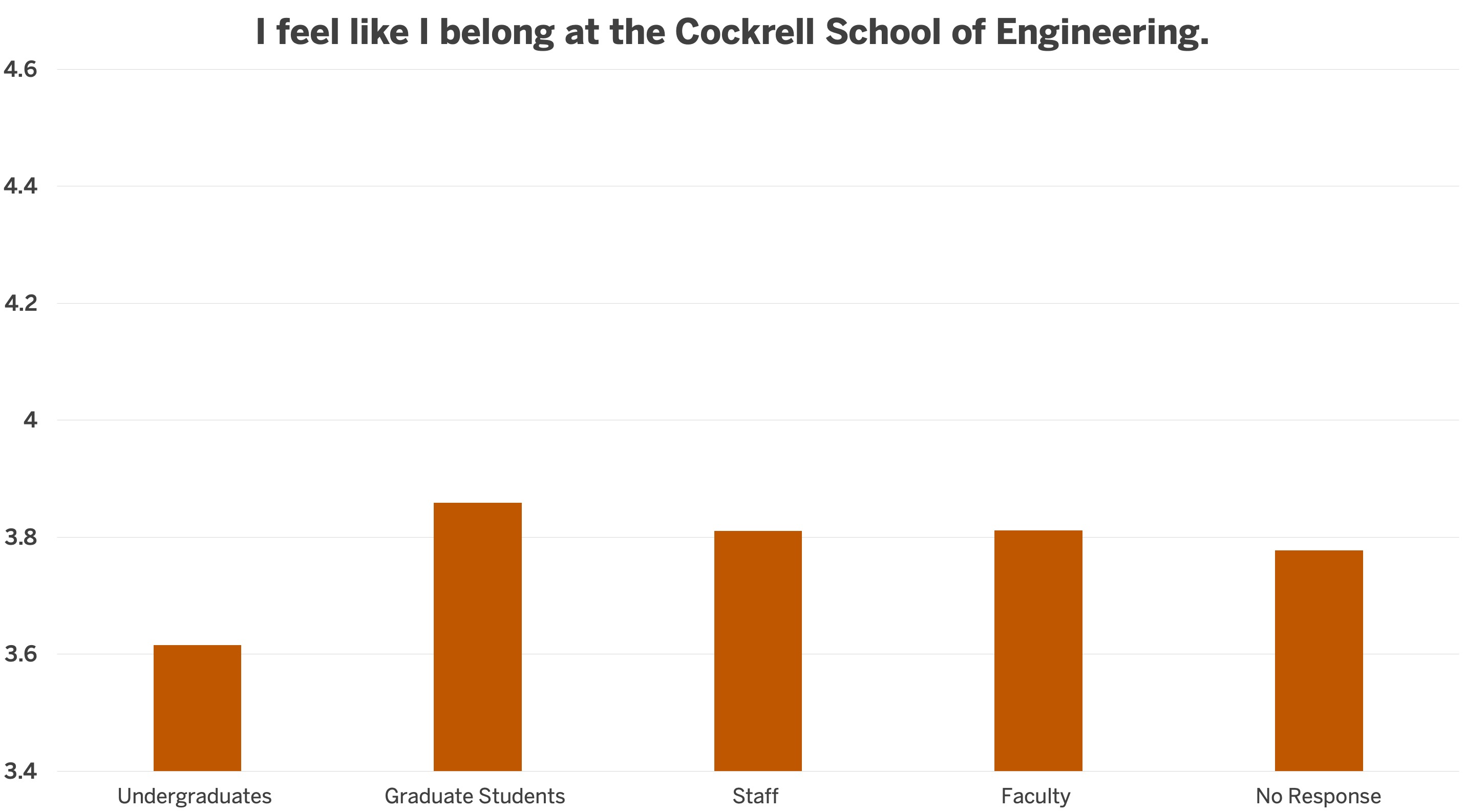 Theme 3: Climate
Members of our Cockrell School community are experiencing the climate in very different ways, with many feeling censored or unsupported and others seeing no problem at all.
Several comments referenced power differentials and group hierarchies that impact the extent to which individuals have agency in their academic or professional work.
In the two charts below, there were significant differences by gender identity within seven of eight groups (not grad students, all backgrounds). Among staff and faculty, there were significant differences between cisgender men, cisgender women and gender noncomforming (including trans*) individuals. For race-ethnicity, the only statistically significant difference was for graduate students (accepting different ideas).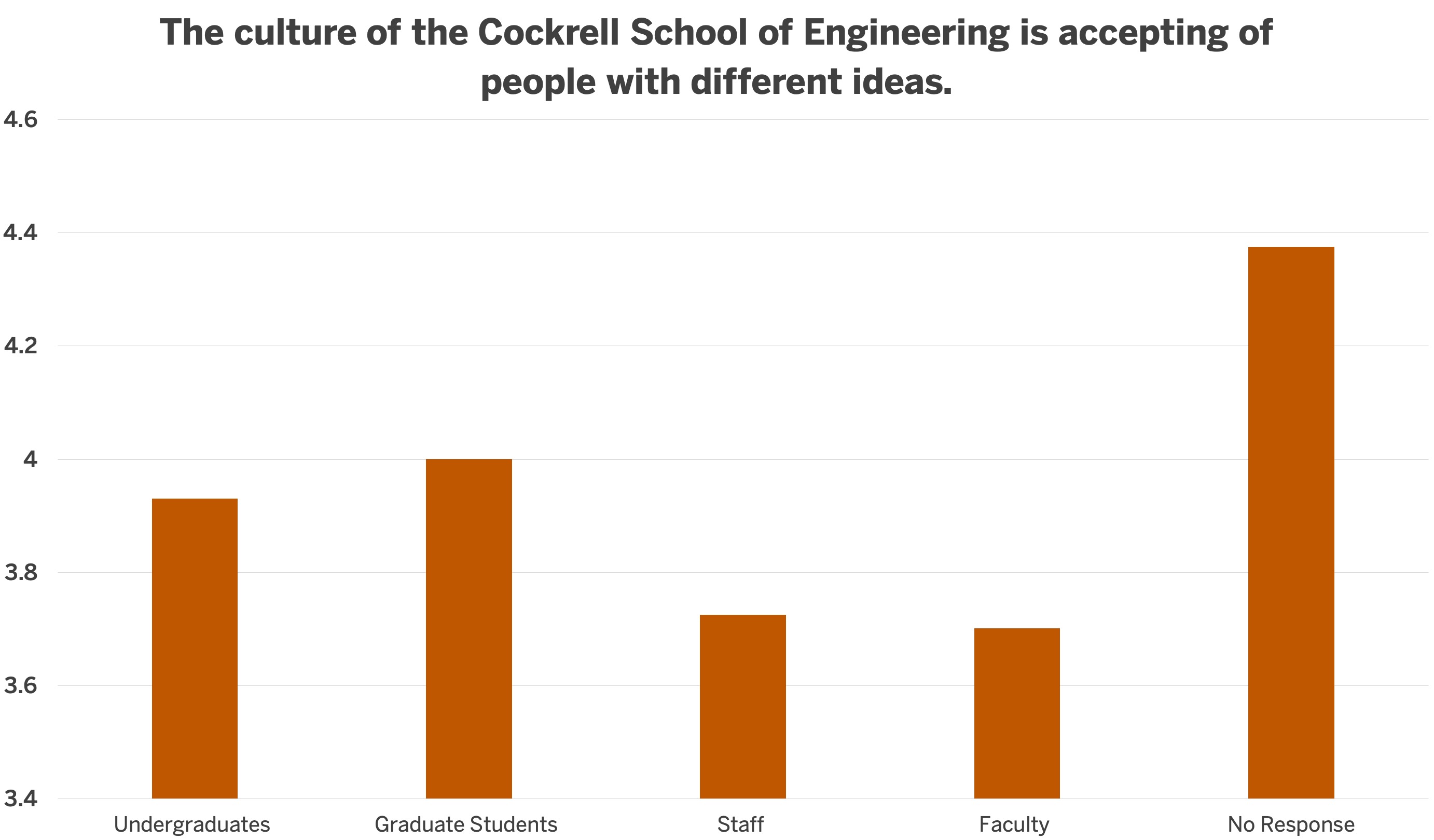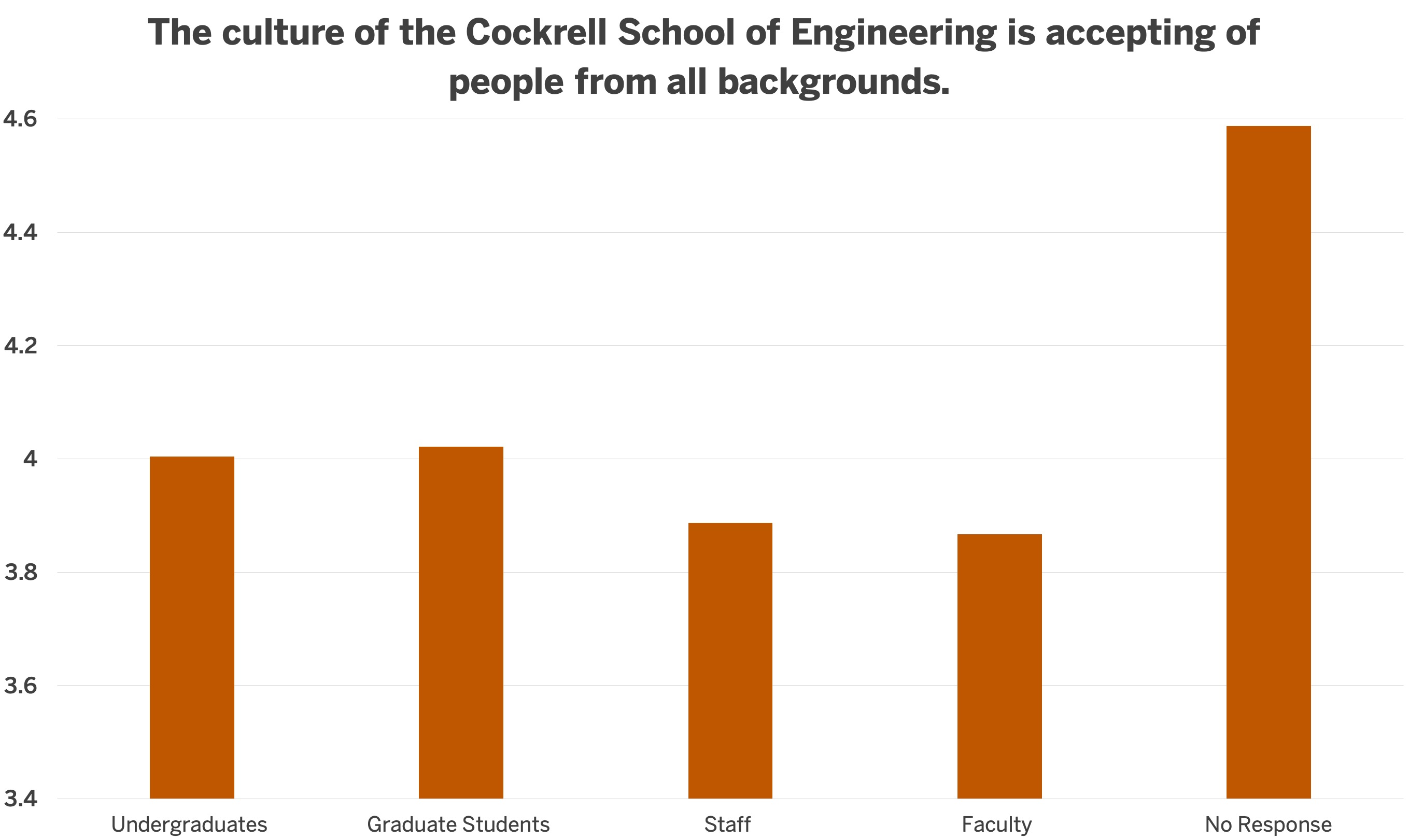 Theme 4: COVID-19 Isolation and Facilities Shutdown
COVID-19 was cited throughout the open-ended responses as exacerbating pre-existing issues with belonging, welcoming climate and views on diversity, in addition to negatively influencing the overall experiences and workload of Cockrell students, staff and faculty.
Next Steps: How can we work together to improve our community climate in the Cockrell School of Engineering?
Facilitating small group community conversations to process climate survey report(s)
Understanding how perspectives and experiences on the climate, belonging and diversity widely differ
Strategizing solutions with Cockrell leadership, units, organizations and programs
Building solidarities across existing and emerging diversity, equity and inclusion efforts
This Climate Survey was intended to guide and assess ongoing efforts in diversity, equity and inclusion in the Cockrell School. It is clear we still have a lot of work to do and a lot of discussions to have. With this is mind, we invite the entire Cockrell School community to engage in conversations to help us understand each other and make positive changes at every level.
Throughout the 2021-22 academic year, the Standing Committee on Diversity and Inclusion will be reaching out to specific groups to help us host discussion sessions around different constituencies, to help make sense of detailed Climate Survey results and to make recommendations. Student organizations, research centers and groups, departments and staffing units are also invited to start their own conversations. We will release a longer, more detailed version of the Climate Survey Report, and we will continue to use Climate Survey responses to seed important diversity, equity and inclusion discussions in the Cockrell School.
Discussion Questions
What are our organization's/department's/unit's definitions of diversity, equity and inclusion? What types of diversity do we need to focus our efforts on and at what level (undergraduates, graduate students, staff, faculty)? What is the relationship between diversity and excellence?
In what ways are people with different backgrounds experiencing the Cockrell School and our organization's climate in very different ways that lead to lower sense of belonging?
What policies, practices or criteria could our organization change to become more diverse, equitable and inclusive?
What might I, as an individual, be doing inadvertently to make the climate less welcoming and more difficult to navigate for certain people?
---
Appendix
Who is in our community (who responded to the survey)?



Among undergraduate students, the most common responses were Mental Health/Psychological Condition (n=27), Attention Deficit/Hyperactivity Disorder (n=16), Chronic Illness/Medical Condition (n=15), Cognitive or Learning Disability (n=7), and Asperger's/Autism Spectrum (n=5).
Graduate students indicated a similar pattern of responses but at rates below our reporting threshold (i.e., less than 5 individuals in each category).
Faculty and staff indicated different disabilities, including Chronic Illness/Medical Condition (n=8), Mental Health/Psychological Condition (n=8), Physical/Mobility condition that affects walking (n=6) and a few others below our reporting threshold.