Longhorn Engineering Summer Camp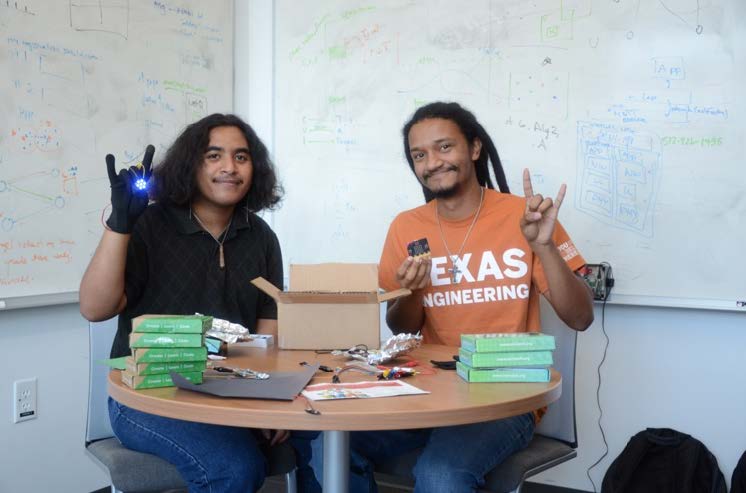 The Longhorn Engineering Summer Camp 2023 (LESC 23) is a free, interactive learning experience that will engage rising 8th and 9th graders in activities that promote the wide impact of engineering. Campers will experience for themselves how engineering mixes with art, sports, medicine, sustainability, and more! Each day, camp attendees will learn a few engineering fundamentals through an engaging presentation by UT faculty and students, then see these concepts come to life through guided hands-on activities.
Longhorn Engineering Summer Camp 2023
Registration will open on February 3, 2023
Houston
June 5-9
Austin - Session 1
June 12-16
San Antonio
July 10-14
Austin - Session 2
July 23-27
Orientation sessions for campers and parents will be held late spring 2023.
The camp is free to attend and lunch will be provided daily.
For more information, contact This email address is being protected from spambots. You need JavaScript enabled to view it.
It is our goal to host inclusive and accessible events that enable all individuals to engage fully. Please let us know if you would benefit from any accommodations for this event by contacting Kiersten Fernandez.
---
El campamento de verano de ingeniería Longhorn 2023 (LESC 23) es una experiencia de aprendizaje interactiva y gratuita, envolviendo a los estudiantes de octavo y noveno grado en actividades que promuevan el amplio impacto de la ingeniería. ¡Los estudiantes experimentarán por sí mismos cómo la ingeniería se mezcla con el arte, los deportes, la medicina, la sustentabilidad y más! Cada día, los asistentes al campamento aprenderán algunos conceptos básicos de ingeniería a través de presentaciones entretenidas por parte de profesores y estudiantes de UT, para después ver cómo estos conceptos cobran vida a través de actividades prácticas guiadas.
Las sesiones de orientación para estudiantes y padres se llevarán a cabo a fines de la primavera de 2023.
El campamento será gratuito para todos los participantes y merienda será proporcionada diariamente al mediodía.
Para obtener más información, comuníquese con This email address is being protected from spambots. You need JavaScript enabled to view it.
Nuestro objetivo es organizar eventos inclusivos y accesibles que permitan a todas las personas participar plenamente. Notifíquenos si se beneficiaría de acomodaciones especiales para este evento poniéndose en contacto con Kiersten Fernandez.