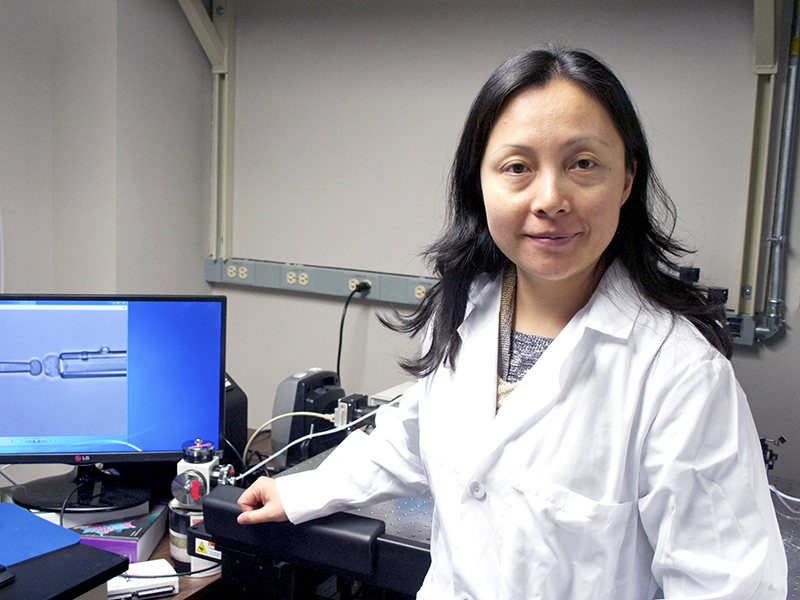 Jenny Jiang, an associate professor in the Cockrell School of Engineering's Department of Biomedical Engineering and the Dell Medical School's Department of Oncology, has been named a National Academy of Medicine (NAM) Emerging Leader in Health and Medicine. The NAM today announced the 2019 scholars, a group of 10 individuals who are early- to mid-career professionals from a wide range of health-related fields, from microbiology and surgery to sociology and biomedical engineering.
The scholars are an essential part of a major NAM initiative, the Emerging Leaders in Health and Medicine Program, which provides a platform for a new generation of leaders to collaborate with the NAM and its members across generations and fields of expertise to advance science, combat persistent challenges in health and medicine, and spark transformative change to improve health for all.
"Selected to the National Academy of Medicine's Emerging Leaders in Health and Medicine program for their leadership qualities, these extraordinary individuals represent the next generation of leading scientists, health care providers, public health professionals and policymakers, who are poised to shape the future of science, medicine and health equity," said NAM President Victor J. Dzau. "I welcome these exceptional professionals into our network of young leaders and look forward to their valuable input to accelerate innovative and cross-disciplinary activities addressing some of the most pressing challenges in health and medicine."
Jiang's research is focused on the mechanics of the immune system, seeking answers to questions such as how the immune system develops and ages, what the molecular signatures of autoimmune diseases are and why the immune system tolerates tumors. She has developed systems immunology tools in her lab at UT that profile single T cells known to be involved in many diseases, technology that provides a greater understanding of the role of the immune system and potentially offering new immune-based diagnostic approaches and more effective treatments.
"I am grateful for the recognition by NAM of our work in the area of systems immunology and immune engineering," Jiang said. "As a biomedical engineer who has always been working at the junction of engineering and medicine, I think this recognition is not just for myself but for many other biomedical engineers working in similar fields to advance medicine and the care of patients through the development of innovative technologies."
The young leaders selected by the NAM for this program engage in a variety of activities throughout the National Academies of Sciences, Engineering and Medicine (National Academies) over a three-year term. The program for this latest class begins on July 1, 2019. Activities include: biannual meetings in Washington, D.C., with NAM leadership; planning an annual Emerging Leaders Forum; participating in National Academies convening activities; publishing NAM Perspectives; and attending the NAM's annual meeting each October.
The Emerging Leaders program facilitates opportunities for mentorship, collaboration and innovation among the participants, NAM members and experts across sectors. The emerging leaders will attend the NAM Emerging Leaders Forum, to be held in Washington, D.C., July 17-18, 2019. The forum will provide an opportunity for invited participants to share their activities and insights on cutting-edge developments in a wide range of fields through collaborative work and interdisciplinary discussions among the nation's evolving leadership in health and medicine.