UT Austin Mourns Passing of Peter J. O'Donnell, Jr.
October 13, 2021
Educational philanthropist Peter J. O'Donnell, Jr. passed away in his home in Dallas on Sunday, Oct. 10, surrounded by family and friends. He was 97 years old.
O'Donnell was a driving philanthropic force behind many initiatives at The University of Texas at Austin, including the Oden Institute for Computational Engineering & Sciences and the university's forays into high performance computing.
Along with his late wife Edith O'Donnell, who died a year ago, he supported institutions across the state with a personal mission to advance higher education.
Educational leaders across Texas are mourning his passing and paying tribute to his vision.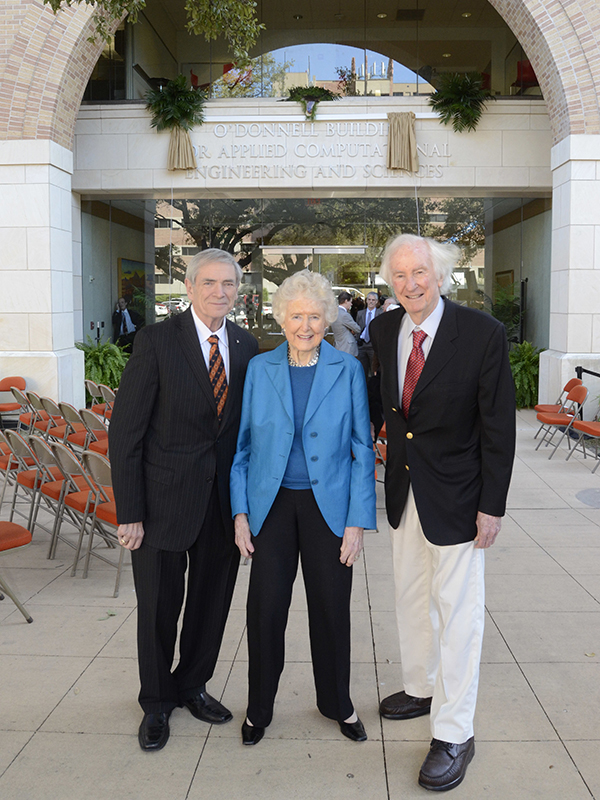 "Texas has lost a legend," said UT Austin President Jay Hartzell. "Peter O'Donnell's generosity and vision laid the foundation for incredible advances in computing, engineering and science at UT Austin, and together with his late wife Edith, he transformed the lives of thousands of students at UT and other universities across our state. His legacy will live on in academic discoveries and innovations for generations to come."
O'Donnell was born near Dallas in 1924. He received a bachelor's degree in mathematics from The University of the South in Sewanee, Tennessee, followed by an MBA from the Wharton School of the University of Pennsylvania.
Upon graduation, his early path led him into the world of commerce, where he found financial success in the securities industry.
O'Donnell's formidable intellect and business acumen led him naturally into politics, where he is credited with reshaping the Texas Republican Party during his tenure as the state party's chairman from 1962 to 1969.
During his early 30s, he and Edith founded the O'Donnell Foundation, a philanthropic organization focused on higher education support in Texas, which grew to become the fifth largest independent Texan foundation. Over the years they contributed hundreds of millions of dollars to public and private educational institutions, mostly anonymously.
The O'Donnell Foundation focused on four areas: math; science and engineering education; medicine, arts and music education; and K-12 education.
Edith O'Donnell was a graduate in psychology from UT Austin. While the two made their impact felt across higher education in Texas, they had special connection to the Forty Acres.
The O'Donnell Foundation and O'Donnell family are among the largest donors to UT Austin. Their support included a challenge grant that created 32 one million-dollar chairs in science and engineering at UT Austin. In 2013, the university announced the naming of the O'Donnell Building for Applied Computational Engineering and Sciences, in recognition of their support throughout the years.
The Oden Institute and TACC
Peter O'Donnell enjoyed a long friendship with J. Tinsley Oden, professor of mathematics, computer science, mechanical engineering and aerospace engineering and engineering mechanics at UT Austin, and widely considered to be the father of computational mechanics.
O'Donnell realized how important high performance computing (HPC) and computational science were to become in higher education, and in Oden he found a partner with the kind of specialized expertise in mathematics, science and engineering to help put both on the map at UT Austin.
O'Donnell and Oden worked closely to create the Institute for Computational Engineering and Sciences in 2002, now called the Oden Institute for Computational Engineering & Sciences and recognized as one of the top computational research institutes in the world.
Thanks to the unwavering generosity of the O'Donnells, Oden was able to recruit some of the most talented computational scientists in the field and build a team that could not only expand the mathematical agility of computational science and engineering as a discipline, but also grow the number of potential real-world applications.
O'Donnell also helped UT Austin get ahead in HPC. In 1985, he encouraged university leadership to acquire the powerful CRAY X-MP system, making UT Austin the first university in Texas to have a supercomputer. This led to the establishment in 2001 of a dedicated advanced computing entity, the Texas Advanced Computing Center (TACC).
Encouragement was followed by the foundation's generous support of TACC, which now operates two of the most powerful university supercomputers in the world: Frontera and Stampede2. O'Donnell noted, "That's leverage. High performance computing is changing everything."
O'Donnell renewed his commitment to TACC in 2012, and to the advancment of data-driven science by supporting the acquisition of high-performance data analysis and storage systems — efforts that helped UT Austin become a leader in data science, machine learning and artificial intelligence. The foundation also contributed to the construction of the Advanced Computing Building that houses the bulk of TACC's staff.
Recognition for the O'Donnells
With such major impacts on Texas' society, education, politics and business, O'Donnell has been recognized and celebrated countless times. In 2008, he was elected to the American Academy of Arts and Sciences. In 2013, O'Donnell received the Distinguished Service Award from the Texas Exes, the alumni association of UT Austin.
"He was an unforgettable, indefatigable visionary and organizational genius who devoted his life, wealth and energy to pursue his often-stated mission: to transform the economy of his beloved Texas to one that thrived on advances in science and technology," said Oden. "He was a dear friend whose impact on education at UT Austin and all of Texas is unparalleled. His friendship and great generosity will always be remembered and honored and cherished."
"Peter O'Donnell, Jr. was perhaps the most influential Texan of his generation," said J.B. Milliken, chancellor of The University of Texas System, in a tribute posted online. "Few people have done as much to advance the State of Texas as a powerhouse for research and innovation. In many ways, he helped shape the Texas we all share today."