Engineering Alumnus Invests in Connecting Business Students and Startup Founders in the Texas Innovation Center
April 28, 2022
Thanks to a seed gift from Cockrell School of Engineering alumnus Stuart Lodge (B.S. Mechanical Engineering 1984), a new program in the Texas Innovation Center gives MBA students real-world business experience as they learn from and help faculty- and graduate student-led startups develop their business commercialization plans.
"This program gives us the opportunity to bring together engineers and scientists with MBA students in a setting where each can learn from the other while helping our entrepreneurs develop business models and grow their startups," said Van Truskett, executive director of the Texas Innovation Center. "We are so grateful to Stuart for his gift and vision to create the Lodge Innovation Scholars program."
The Lodge Innovation Scholars program is a one-semester experience in the spring for graduate students in McCombs School of Business who are interested in new ventures and technology commercialization. The students are embedded in the Texas Innovation Center portfolio and collaborate with faculty members, researchers and students from the Cockrell School and the College of Natural Sciences who are launching startups spun out of laboratory research and technology development. Lodge acts as an advisor to the program.
Scholars are selected through an application process, and, depending on the scholar's existing experience and interests, will support several startups in various business roles, from finance to management to business analytics.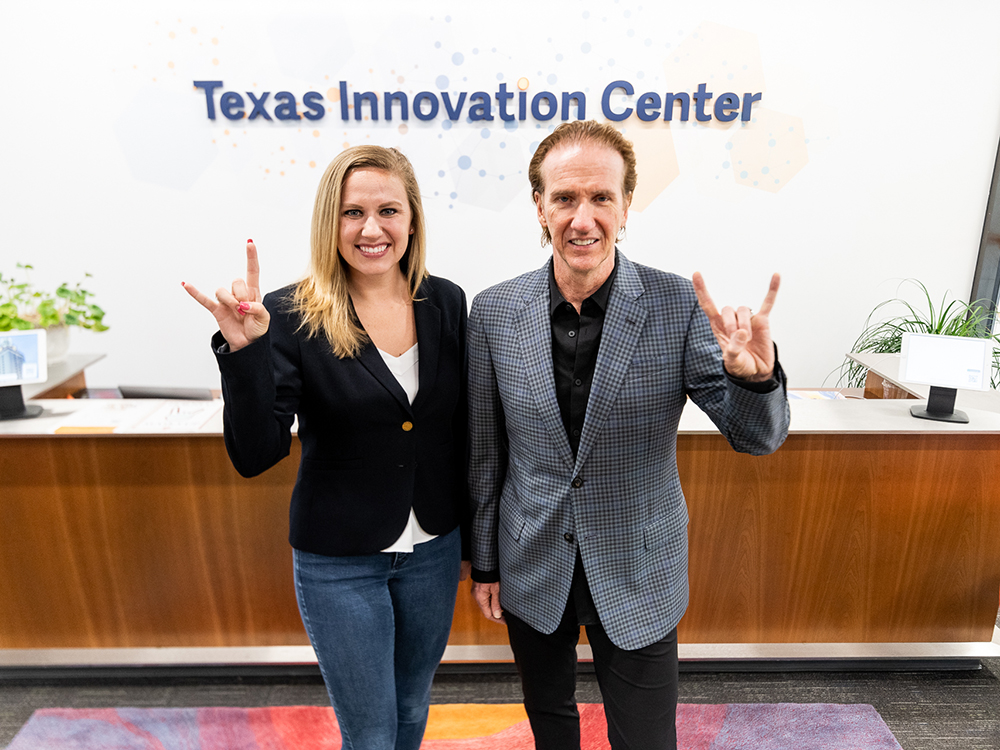 This spring's inaugural Lodge Innovation Scholar is Taylor Craig, a UT MBA student concentrating in finance, who served in roles as senior analyst and senior advisor at Dell Technologies prior to beginning her MBA program. In the Texas Innovation Center, Craig is supporting three startups — Tau Systems, Altect and La Luce Cristallina — as a financial analyst, helping the founders build comprehensive financial models to support their fundraising activities.
"Being a Lodge Scholar has been an incredible experience," Craig said. "Working with such a broad range of technologies, researchers and startups to help them build the financials that will turn their ideas into revolutionary realities has been one of the most unique and exciting pieces of my time in business school.
After receiving his bachelor's in mechanical engineering from UT in 1984, Lodge went on to earn his MBA from the University of Virginia in 1991. Lodge has nearly three decades of experience as the CFO for a variety of technology companies and he spent the last five years as a private equity investor building rapidly growing SaaS and payments platforms.
"As an engineer-turned-CFO and investor, I understand the critical role sound business planning and financial modeling play in the launch and growth of successful technology platforms. My vision for the Lodge Innovation Scholars program is to provide UT MBA students the opportunity to work alongside world-class UT faculty and grad student entrepreneurs to support their startup business plans as they start down the path toward commercialization," Lodge said. "I'm grateful for the opportunity to partner with the Texas Innovation Center on this new program. Congratulations to Taylor for being selected as the inaugural Lodge Innovation Scholar!"
Applications for the next Lodge Innovation Scholar open in fall 2022. Interested applicants can find all graduate student funding opportunities on the Texas Innovation Center website.