A dozen student and staff-led groups will be part of the first cohort of Diversity, Equity and Inclusion Seed Grants from the Cockrell School of Engineering.
This program, which is part of the National Science Foundation-funded Center for Equity in Engineering, will support seed grants of $3,000 to $5,000 for DEI-focused projects. While faculty are allowed to participate, students, post-doctoral researchers and staff must be the project leads.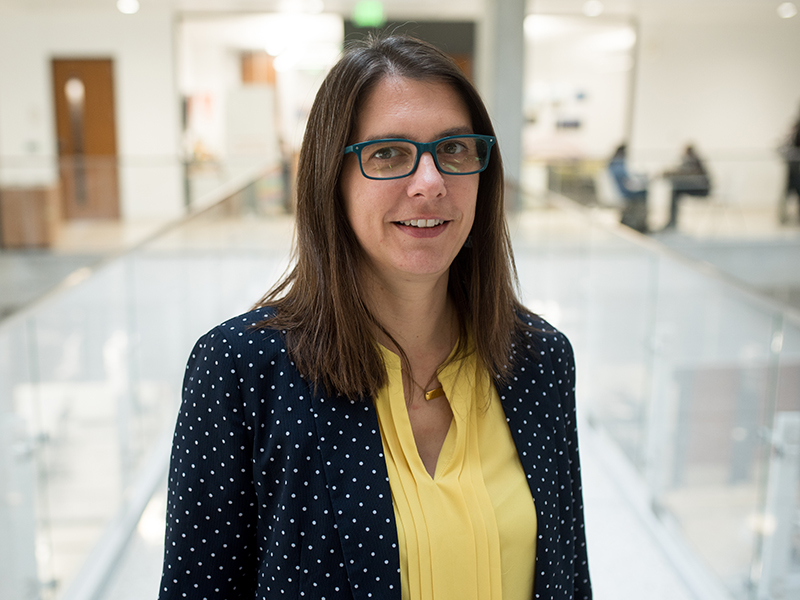 "One of the principles behind the Center is the view that broadening participation in engineering is the responsibility of all members of the Cockrell School community – these seed grants are a way for us to put tangible support behind that principle, allowing members of the CSE community to put their own ideas into action," said Christine Julien, associate dean of Diversity, Equity and Inclusion at the Cockrell School, and director of the center.
Here is a look at the 12 projects – project leader names in bold – which span departments across the Cockrell School and focus on providing support for people in new and exciting ways:
Active Recruitment of Diverse Graduate Students
This project aims to increase presence of underrepresented students in the graduate student applicant pool to 35% through active recruitment of students from nine minority-serving institutions in Texas in Spring 2023.
Staff: Mary Cantu-Garcia (Walker Department of Mechanical Engineering), Sarah Laney
Faculty: Janet Ellzey, Yaguo Wang, Lei Zhou
Biomedical Engineering Learning Network Group (BELoNG)
BELoNG provides undergraduate biomedical engineering students with mentoring and academic accountability. The project includes the formation of Learning Pods that meet monthly and focus on fostering engineering identity and working with faculty mentors.
Student: Sophia Ty (Undergraduate)
Staff: Brittain Sobey (Biomedical Engineering), Chase Dawkins
Faculty: Laura Suggs
Peer-Led Teaching Assistant Support
This project aims to enhance instructional support and sense of community and belonging in biomedical engineering by training teaching assistants in inclusive learning practices.
Student: Nikhith Kalkunte (Graduate - Biomedical Engineering)
Staff: Lacy White
Community Building in Study Hours for Undergraduate Transfer Students
This program facilitates community through study groups among undergraduate transfer students. Group leads knowledgeable of campus resources can help guide students through acclimating to the college.
Student: Elisa Koolman (Graduate - Walker Department of Mechanical Engineering)
Emerging Leaders in Engineering Seminar Series
The seminars serve as a recruiting mechanism to help the various departments in the Cockrell School of Engineering successfully attract promising scholars from historically underrepresented communities to apply to become the next generation engineering faculty.
Post-doc: Mykel Green (Biomedical Engineering)
Engineering Bright Futures
Engineering student volunteers will mentor high school juniors from underserved local schools to foster an interest in pursuing engineering, introduce them to engineering-related opportunities and discuss the application process to Texas Engineering.
Student: Anjali Raghavan (Undergraduate - Chandra Family Department of Electrical and Computer Engineering)
Faculty: Nina Telang
Inclusive Engineering Fundamentals Micro-Credential
A micro-credential (badge) offered through Texas Engineering Executive Education that aims to equip engineers with the skills and sensibilities to create equitable and inclusive technological solutions and systems.
Staff: Woodrow W. Winchester III (Texas Engineering Executive Education)
Investigating Climate and Feelings of Belonging among Undergraduates in Civil, Architectural and Environmental Engineering
The team is seeking to improve students' sense of belonging through a rare department-level climate survey focused on their wellbeing and how rules or structures could be changed to better support students from groups historically excluded from participation in engineering.
Post-doc: Katherine Dowdell (Civil, Architectural and Environmental Engineering)
Faculty: Mary Jo Kirisits, Maura Borrego
Neuroengineering Research and Science Ambassador Experience for Cockrell Undergraduate
This project will help promote student retention by offering a Cockrell undergraduate a summer research opportunity in computational neural engineering while also getting students involved in STEM outreach by developing science modules jointly with local middle school teachers.
Post-doc: Rodrigo Osuna Orozco (Biomedical Engineering)
Faculty: Samantha Santacruz
Shamelessly Taking Space: Advocacy, Confidence, & Empowerment
Includes the development of a day-long retreat that aims to provide a supportive environment where graduate and post-doctoral students can build skills around self-advocacy, confidence and empowerment.
Students: Caitlin Benway-Trejo (Graduate), Xiomara Gonzalez (Graduate - Chandra Family Department of Electrical and Computer Engineering)
The Role of Student Organizations in Supporting Undergraduates
This project examines how student organization Pi Sigma Pi supports undergraduates through events such as graduate school information sessions and mental health workshops.
Student: Katrina Fierro (Undergraduate - Civil, Architectural and Environmental Engineering)
Understanding the Experiences of Underrepresented Researchers
A series of interviews with women, people from marginalized communities and those with disabilities to understand the research experiences and barriers they experience within the Cockrell School of Engineering.
Staff: Stephanie Strayer (Chandra Family Department of Electrical and Computer Engineering)