Four faculty members from the Cockrell School of Engineering have earned the National Science Foundation's prestigious Faculty Early Career Development (CAREER) awards. The CAREER award provides up to five years of funding to junior faculty who exemplify the role of teacher-scholars through cutting-edge research, excellent education and the integration of education and research within the context of their organizations' missions.
This year's NSF CAREER award recipients may have vastly different research interests, but the tether that ties them together is their love of their students. Each award recipient expressed gratitude to their students for their tireless work and dedication; without them, this award wouldn't have been possible, they say.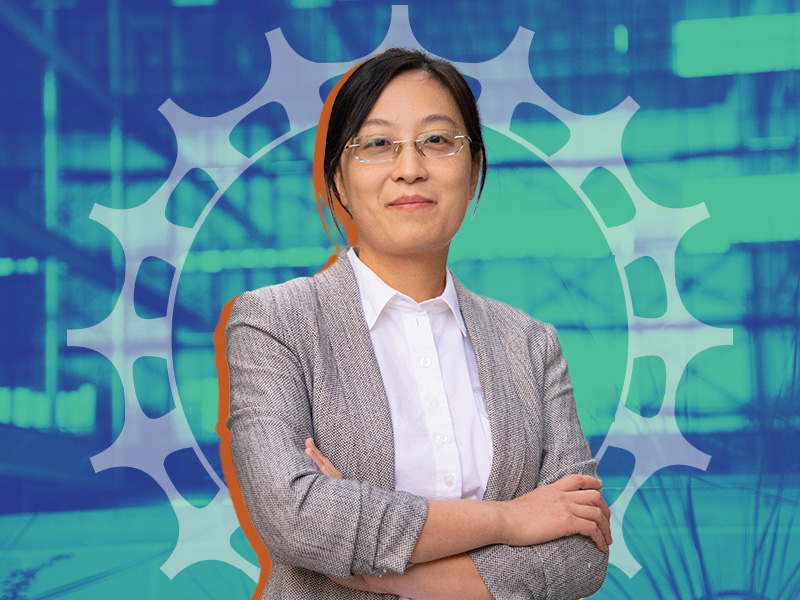 Yaoyao Jia
Assistant Professor, Chandra Family Department of Electrical and Computer Engineering
"I really want my work to be useful to human beings."
Research Specialty
Analog/mixed-signal integrated circuits, power-management integrated circuits, system integration, energy harvesting, implantable and wearable biomedical devices, and neural interface devices
2023 CAREER Award Focus
Jia's focus for the NSF CAREER award is to create a distributed neural interface system used to stimulate neurons in different parts of the brain with minimal invasiveness. Many current versions of similar devices are incredibly bulky and are restricted to a single neural interface mode or lack spatial coverage.
"Traditionally, the neural interface system has a centralized structure that is very complex and bulky - neurons are distributed around a large area of the brain, but the device is centralized. Centralized devices have limited spatial coverage and a high risk of failure in wire connections with large channel counts," says Jia.
There is an increasing realization that most brain functions involve a large population of neurons that are spread across different brain regions that work together, forming a complex neural communication network. Jia's work on a distributed neural interface system will significantly deepen our understanding of how the brain functions.
This form of 'electronic medicine' could help pioneer new treatment methods for patients with neurological disorders (like Alzheimer's, epilepsy and Parkinson's disease) that are linked to inactive neurons by artificially stimulating them. Device miniaturization is one key to success that Jia and her collaborators have unlocked, reducing the implant size to less than two millimeters in diameter - enabling installation on several parts of the brain to activate neurons throughout. They have plans to reduce the size even more to unlock more pathways of neural activity and foster a deeper understanding of the brain for future research.
This project is the culmination of work from many minds in cross-disciplinary fields, and Jia plans to take this collaborative spirit to education and community outreach. Funding from this award will go towards making cross-disciplinary STEM programs more accessible to underrepresented minority groups and young women in STEM.
Fun Fact
There are many ways one can travel, but Jia prefers the intimacy of a good road trip over a crowded airport. Jia is very family-oriented and loves to travel with her parents and dogs.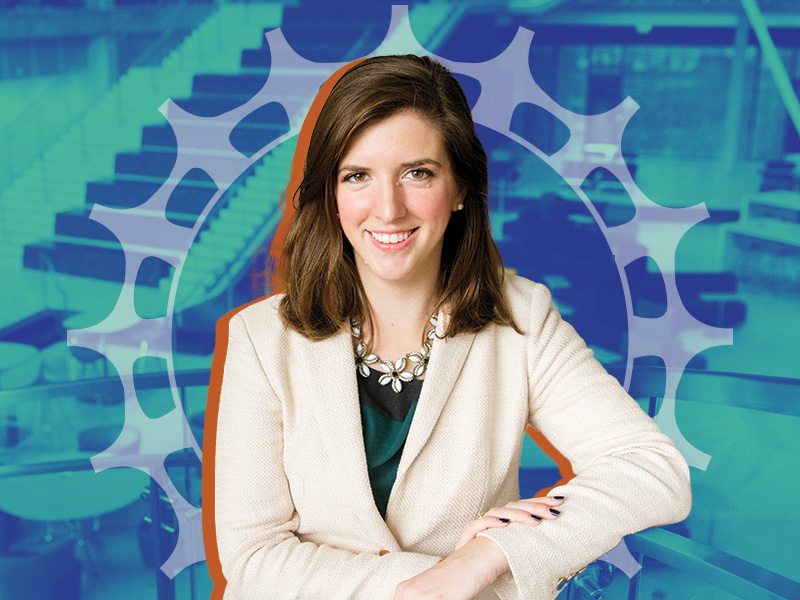 Blair Johnson
Assistant Professor, Maseeh Department of Civil, Architectural and Environmental Engineering
"It feels like magic in the lab to visualize things that many of us take for granted."
Research Specialty
Environmental fluid mechanics, turbulence, sediment transport and mixing processes
2023 CAREER Award Focus
Johnson's research revolves around studying the turbulent flows of coastal and near-shore wave breaking. Johnson aims to break down the physics of wave movements to create laboratory models that can be used to make more informed predictions about trends in the environment like glacier melting, mixing of desalination brines in the ocean, shoreline erosion after hurricanes and other environmental events.
Her work seeks to bridge some of the gaps between ocean, fluid dynamics, and physics research communities (just to name a few).
"This work is something that has a much more direct impact in accessibility and engagement of science and gives our findings and lab techniques some visibility beyond academic space," says Johnson.
Johnson's custom-designed lab facilities simulate the turbulence encountered in the environment, which is not currently factored into many existing scientific models. Adding this factor can be extremely helpful in instances like ice melting predictive models, which are currently underestimating melting by 10x to 100x what is being seen in the field.
For the educational component of Johnson's CAREER award, she's excited to partner with the Science Mill, one of the most expansive science museums in Texas, to create exhibits that showcase the kind of research she is conducting. Their partnership will also include lab programs for homeschooled students who do not typically have access to a lab environment in their studies.
Fun Fact
Johnson loves music and dance and even minored in music during her undergrad (though she wishes she could dedicate more time to the piano these days). If you're lucky, you may be able to get tickets to her next hip-hop dance performance in Austin.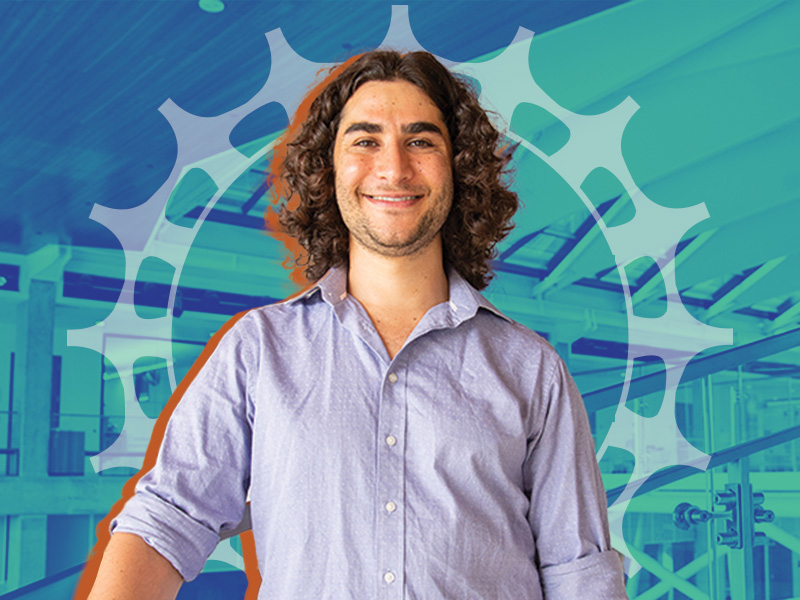 Jon Tamir
Assistant Professor, Chandra Family Department of Electrical and Computer Engineering
"I want to give confidence that the tools we're making are actually reliable because they impact everyone, either directly or once or twice removed."
Research Specialty
Computational imaging, including signal processing and machine learning with an emphasis on improving medical imaging systems
2023 CAREER Award Focus
Tamir focuses on improving existing MRI systems to make them faster, more robust and grant them more capabilities than they currently have. This is especially exciting in the field of neonatal care, where current technology is retrofitted to work for newborn babies, but newborns in need of care often can't be transported out of the NICU to radiology labs. Variables like movement, which can make a scan blurry and unreadable, can be particularly challenging to correct with infants and young children. Tamir's research framework with MRI uses AI and machine learning to recover motion trajectories during the scan to create a motion-free image.
Another area being measured is speed. CT scans are often a go-to in intensive care, as in the case of stroke patients, because an MRI scan is much slower. Tamir's research is already showing an increase in MRI speed by about three times. This vast improvement could be a boon for patients because MRI is generally the safer scanning method since it does not expose patients to ionizing radiation the way CT scans do.
Tamir is also excited by community outreach and education programs that will be funded through the CAREER award, like a new Imaging Day at elementary schools, where students can learn about imaging with live demos using sonar-like technology to mimic echolocation in bats. Summer programs for high school students interested in STEM are also in development.
Fun Fact
Tamir joined the crew team while pursuing his undergrad at The University of Texas at Austin, and it's something he still holds dear. When he's not in the lab, you may catch him rowing on Ladybird Lake with the Austin Rowing Club.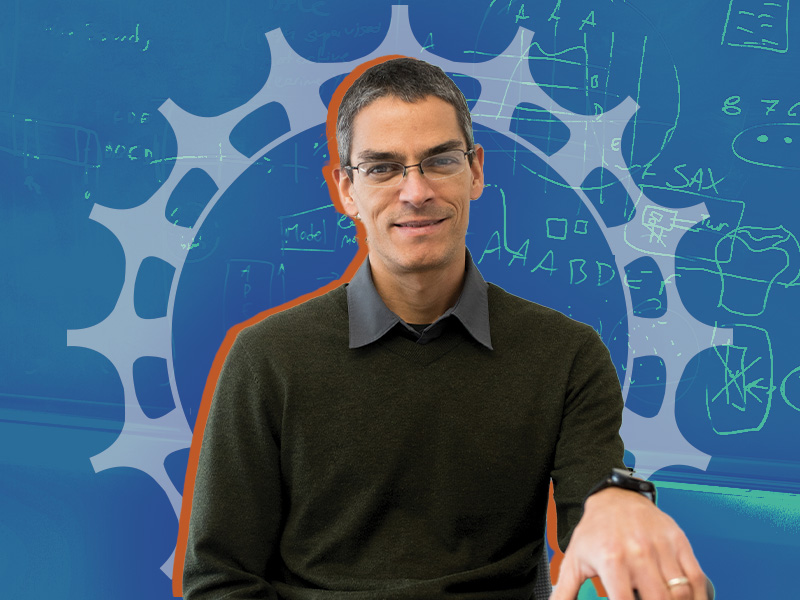 Edison Thomaz
Assistant Professor, Chandra Family Department of Electrical and Computer Engineering
"There will always be influences in your career; so much of engineering is collaborative, and for me, this goes all the way back to the early 2000s."
Research Specialty
Modeling health-related behaviors, with a specific focus on scalable computational methods and novel sensing approaches
2023 CAREER Award Focus
Thomaz is working on the development of wearable devices to detect when and what people are eating. Designed to look like everyday jewelry, sensors can detect hand movements to discern at what times someone is eating, how long, and, down the road, even the contents of a meal. Anyone who has ever tried to keep up with a food diary or use a smartwatch to track steps will be excited about these new strides in diet monitoring.
"Food tracking is hard. We find that many people actually start eating worse and have a less diverse diet when they log it manually. They end up eating the same things to avoid the hassle of looking up quantities and nutrients of new foods, or resort to scanning barcodes in prepackaged meals," says Thomaz.
Outside of making food intake monitoring more accessible and less cumbersome, the technology will make research into the effects of diet and food more reliable. It will create measurable data rather for research, an improvement over self-reporting, which can be flawed and especially hard to track over a period of time. These monitoring systems can also help aid patients recovering from eating disorders, those who have health-specific diets, and more.
By summer 2024, Thomaz hopes to launch a new summer camp for underserved communities to introduce kids to some of the sensor technologies they use to measure themselves and their environment.
Fun Fact
Thomaz understands more than most the importance of a healthy diet and exercise from his research, but that doesn't mean he won't indulge in the occasional sweet treat. Much to the delight of his children, he's working on perfecting his mother's flan recipe - but admits hers is still better.