Texas Engineering Ambassadors serve as representatives of the Cockrell School. They participate in a wide range of activities and initiatives, including serving as presenters, facilitators, and hosts at a variety of school-wide events on campus or in the community, as well as panelists, event coordinators, guest speakers, small group facilitators, leadership retreat facilitators, tour guides, student liaisons, outreach event participants and other positions for the Cockrell School.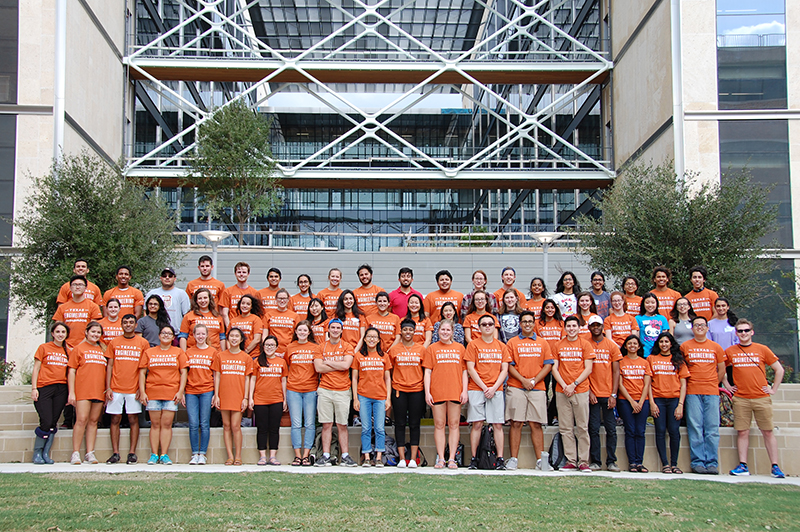 Engineering Ambassadors:
Introduce the Cockrell School to prospective engineering students through weekly information sessions, panels, activities, tabling and calling campaigns
Serve as peer facilitators or moderators for student leadership or other Cockrell School events
Represent the Cockrell School at high-profile school-wide events such as alumni advisory board engagements and speaker series events
Volunteer at community-building and outreach events including Gone to Engineering, Explore UT, Family Weekend, World of Engineering, and Girl Day
Volunteer with community STEM events such as the Austin Energy Regional Science Festival, school visits, Thinkery STEM events, etc.
Engineering Ambassadors (EAs) Requirements:
EAs must be in good academic standing with the university and the Cockrell School and must maintain a cumulative GPA of 2.8 or higher.
EAs must be 2nd-year or beyond undergraduate engineering students.
All new EAs (students joining the EA program for the first time in the fall) will be required to complete the online EA training on Canvas prior to the fall semester.
All EAs will be expected to attend the Cockrell School Student Leaders Conference and help at Gone to Engineering.
All EAs will be expected to volunteer for at least 4 campus or community engineering or STEM-related activities or initiatives each long semester (fall and spring).
All EAs will be expected to complete activity reports for each volunteer activity completed throughout the year.
The Texas Engineering Ambassadors program is led by the Women in Engineering Program.
Apply now to be a Cockrell School of Engineering (CSE) Ambassador for the 2021-2022 school year. Application Deadline: May 27, 2021, 11:45 p.m.