WEP's WEatUT camp will be hosted in a virtual format summer 2021.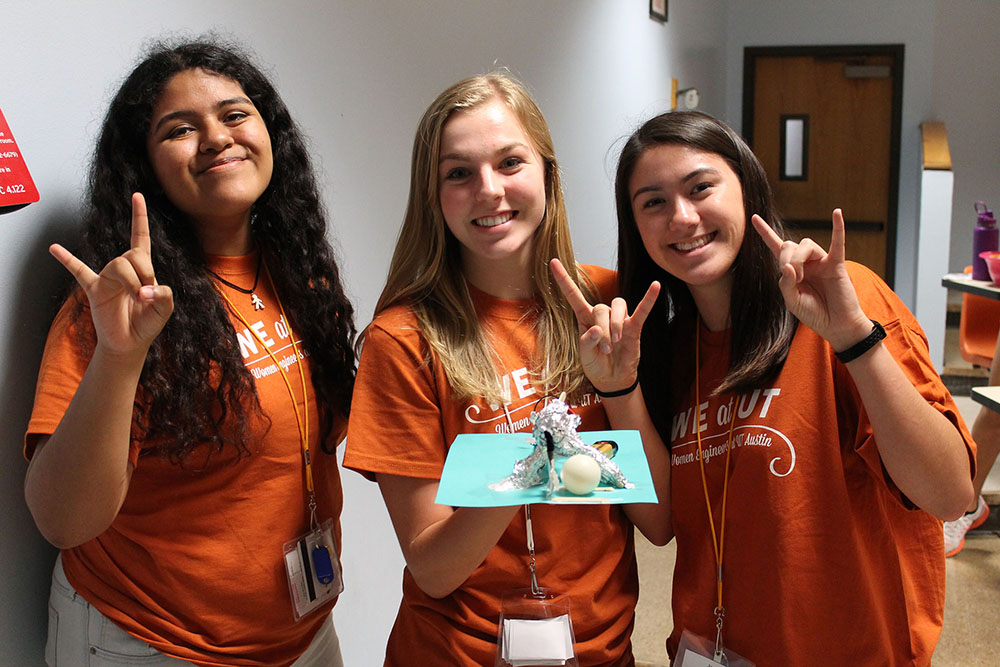 Women Engineers at The University of Texas at Austin (WEatUT) is a virtual summer camp designed for young women going into their senior year of high school who have an interest in math, technology, science or engineering.
Program Goals
The goal of WEatUT is to support you in your exploration of engineering as a career path with a focus on narrowing and solidifying your choice of engineering major for college. The program will cover the following topics:
Introduction to Engineering and Its Possibilities: Immerse yourself in the engineering design process through discipline-specific, hands-on activities and challenges and deepen your understanding of the diverse areas in engineering.
Engineering Applications in the Real World: Learn how engineers shape our world through virtual experiences with women industry professionals, Texas Engineering women faculty and women engineering student mentors.
College and University Exploration: Explore the UT Austin campus through virtual field trips, learn more about UT Austin and the Cockrell School of Engineering, and , gain tips to navigate the UT Austin admissions process.
Program Details
2021 Dates: Tuesday, June 1, through Friday, July 31
Program content will be shared weekly on Wednesdays via a WEP on Wednesday (WOW) camp eNewsletter sent to camp participants and family members, guardians or coordinating educators
Participants will be invited to join in on FabFems Fridays webinars hosted each Friday from 12 – 12:45 throughout June and July for the WEP community
Participants will participate in 2 hands-on engineering design challenges and showcases
Participants who complete the camp pre-survey, weekly WOW eNewsletter polls, both engineering design challenges, and the camp post-survey will receive a certificate of completion and will be considered for future WEP scholarships if admitted to the Cockrell School of Engineering
Note: virtual camp content will be new and distinct for participants of WEP's 2020 virtual camp who chose to join us again for WEatUT 2021
Program Cost
WEatUT 2021 is offered for free thanks to our generous corporate partners.
Application Process and Timeline
WEatUT participants will be selected based on their completed applications and reviewed holistically. Applications received by March 8th will be reviewed and applicants will be notified by April 2nd. Applications received between March 9th and April 30th will be reviewed and applicants notified by May 7th.
Application Opens: January 11, 2021
Early Application Deadline: March 8, 2021
Early Admissions Decision Notification: April 2, 2021
Final Application Deadline: April 30, 2021
Final Admission Decision Notification: May 7, 2021
Deadline to accept offer and complete pre-survey: May 14, 2021