The University of Texas at El Paso and The University of Texas at Austin have signed agreements with the U.S. Space Force to provide advanced research and workforce development for the newest branch of the U.S. armed services. The University of Texas System signed an umbrella memorandum of understanding (MOU) with the Space Force as part of the comprehensive agreement.
Space Force Vice Chief of Space Operations Gen. David D. Thompson joined UTEP President Heather Wilson, UT Austin President Jay Hartzell and Archie Holmes Jr., UT System executive vice chancellor for academic affairs, at the signing.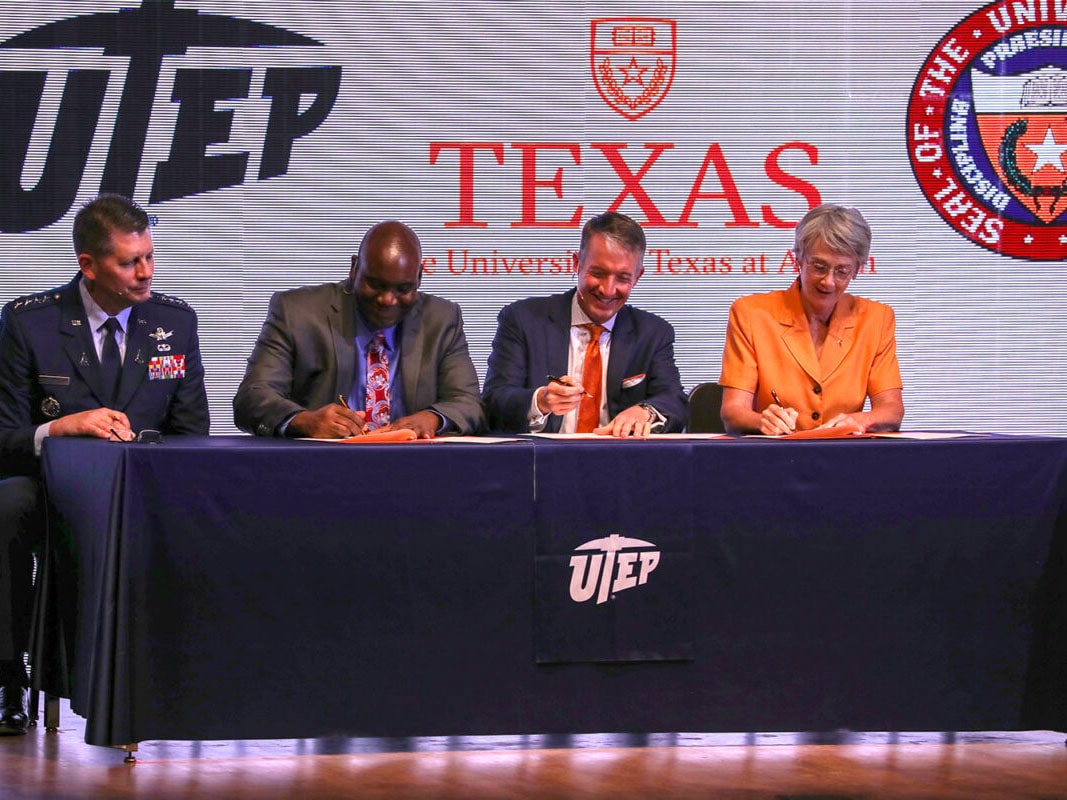 "At the heart of the Space Force's University Partnership Program is the need to advance our science and technology to build the next generation of space capabilities coupled with the need to develop the workforce of the future," Thompson said. "With a long history of leading aerospace research across the Paso del Norte region and beyond, we're confident we can find such talent here at UTEP, at UT Austin and across the UT System."
"Today's MOU will help accelerate the great work already taking place between UT Austin and Space Force," Hartzell said. "We've had a long and proud history of research collaborations with the Force and its predecessors, and we've been preparing students for space-related work for decades. Now, as the issues surrounding the role of space in national security are growing in importance, our labs and classrooms will be ready to address the highest impact research and talent challenges of the future."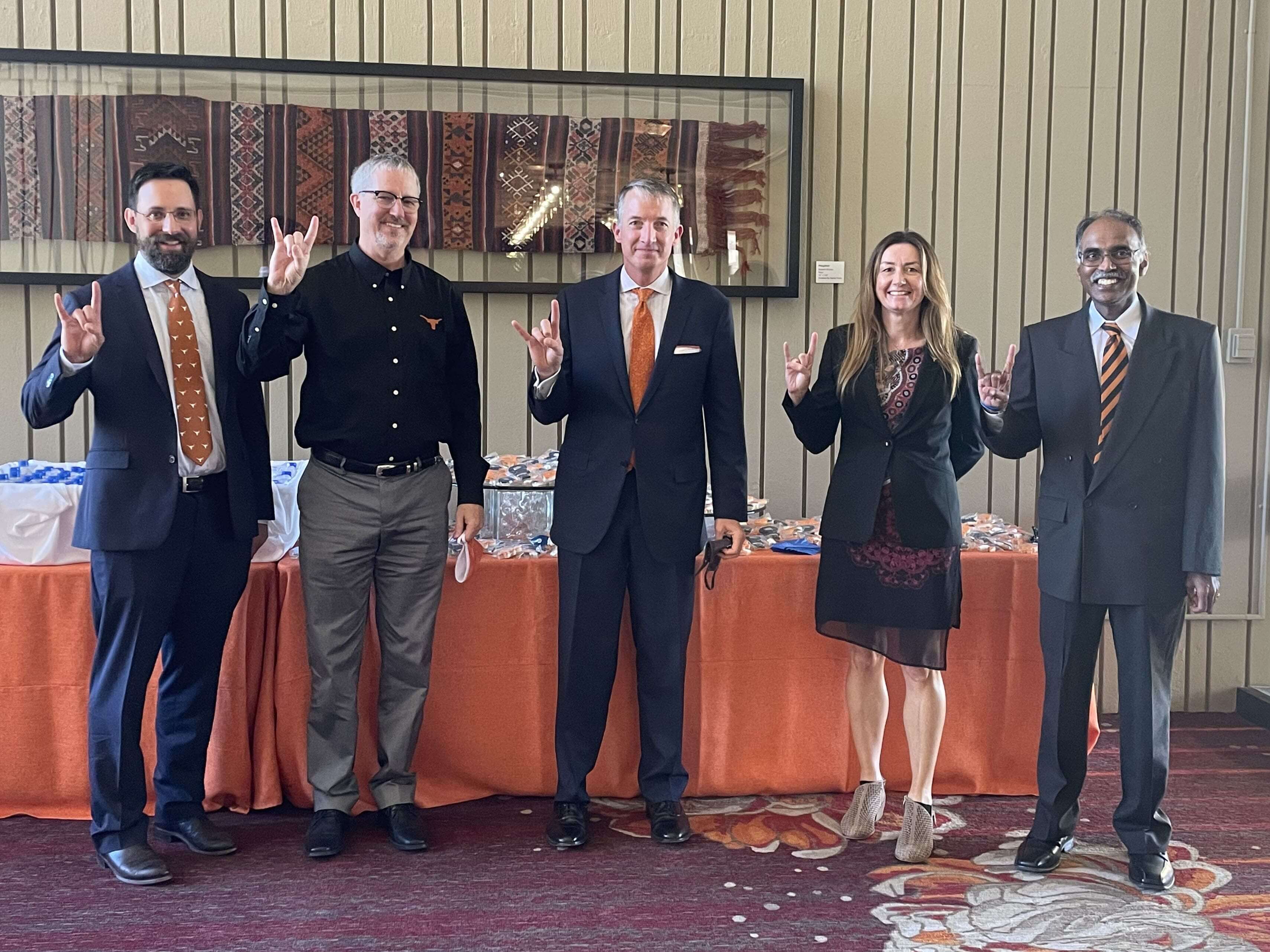 Faculty from the Cockrell School's Department of Aerospace Engineering and Engineering Mechanics, including department chair Clint Dawson, Karen Willcox, who also serves as director of UT's Oden Institute for Computational Engineering and Sciences, and professor Maruthi Akella attended the event. The partnership will help strengthen their research and deepen the ties created between Space Force and the department. Other aerospace engineering faculty members involved include Srinivas Bettadpur, Moriba Jah, Brandon Jones, Lori Magruder, Ryan Russell and Renato Zanetti.
"I am proud of the aerospace leadership at UTEP and UT Austin and look forward to seeing the resources and talent of UT institutions applied to the most challenging problems the Space Force is solving," said Holmes, who is also a Cockrell School alumnus (B.S. Electrical Engineering 1991).
The challenges facing the Space Force in protecting unfettered access to space require a workforce with a deep understanding of the domain, people who also possess the creativity, critical thinking and collaborative ability to solve problems, Thompson said. The University Partnership Program is one way the Space Force is building that future workforce.
"This partnership between UT Austin, El Paso and the U.S. Space Force will bring an unmatched benefit to the Department of Aerospace Engineering and Engineering Mechanics by providing the most demanding and wicked space problems in need of solutions and knowledge creation; allowing us to further develop and train the U.S. Space Force's already competent workforce; and providing opportunities for technology maturation and transition from research into operationally relevant environments biased toward positive impact," Jah said.
UTEP and UT Austin are two of 11 universities selected to join the Space Force University Partnership Program in fiscal year 2021. The institutions were selected based on four criteria: the quality of STEM degree offerings and space-related research laboratories and initiatives; a robust ROTC program; a diverse student population; and degrees and programming designed to support military veterans and their families in pursuing higher education.
"The University of Texas at El Paso has been engaged in aerospace research for decades. We are pleased to be able to support the Space Force as they develop the capabilities to protect America's vital national interests in space," Wilson said. "This agreement further establishes the greater El Paso region as a leader in space flight and aerospace research."
The main goals of the University Partnership Program agreements include:
Establish opportunities for world-class research, advanced academic degrees, and workforce and leadership development for USSF Guardians.
Identify and pursue research areas of mutual interest with member universities, individually and collectively.
Establish scholarship, internship and mentorship opportunities for university students and ROTC cadets.
Recruit and develop diverse officer, enlisted and civilian Guardians with a particular focus on science, technology, engineering and mathematics.
Texas Engineering faculty members involved in the partnership include: Maruthi Akella; Srinivas Bettadpur, Lori Magruder, Renato Zanetti from the Center for Space Research; Moriba Jah; Brandon Jones; and Ryan Russell.