The University of Texas at Austin is one of 13 university teams in North America set to participate in the EcoCAR EV Challenge, a prestigious collegiate competition to re-engineer state-of-the-art vehicles and prepare students for the future.
The four-year challenge is sponsored by the U.S. Department of Energy, General Motors and MathWorks, and it is administered by Argonne National Laboratory.
Beginning this fall, each university team will be tasked with engineering a next-generation battery electric vehicle that deploys connected and autonomous features to improve energy efficiency, safety and a more appealing customer experience, while meeting the decarbonization needs of the automotive industry. Each team will be given a 2023 Cadillac LYRIQ and will be challenged to design, build, refine and demonstrate the potential of their advanced propulsion systems and connected and autonomous technologies over four competition years.
"This year, the selection process was highly competitive due to the number of outstanding applications we received from universities, big and small, across the U.S and Canada," said Kristen Wahl, director of the Advanced Vehicle Technology Competition (AVTC) Program at Argonne National Laboratory. "We are pleased to announce that The University of Texas at Austin will be competing in the EcoCAR EV Challenge and we are excited to see what the teams will accomplish in supporting the country's transition to clean energy and electric vehicles."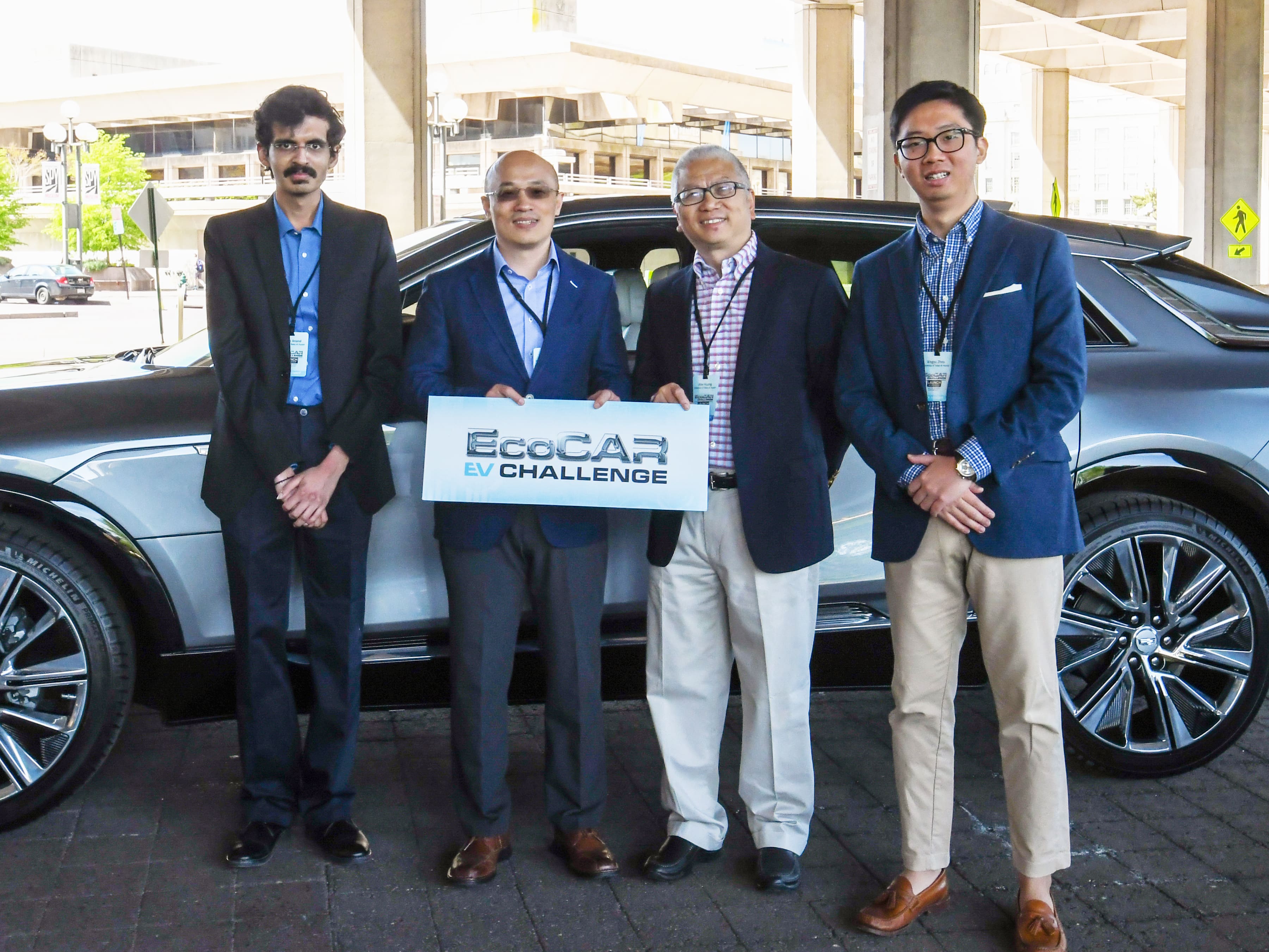 This is the first time UT Austin has participated in the 34-year-old challenge. The UT team's faculty advisors are Junmin Wang, professor in the Walker Department of Mechanical Engineering; Alex Huang, professor in the Cockrell School's Department of Electrical and Computer Engineering; and Joydeep Biswas, professor in the College of Natural Sciences' Department of Computer Science.
They are actively recruiting students, and the team could be as large as over 100 undergraduate and graduate students who come from a variety of disciplines, including mechanical engineering, electrical engineering, petroleum engineering, computer science, software engineering, communications, business and more.
"This is a unique opportunity for undergraduate and graduate students to work in a multidisciplinary setting and collaborate, helping them better prepare for future careers," Wang said.
The collaborative approach beyond engineering and design aims to emulate the full cycle of vehicle production in the automotive industry. To improve diversity in STEM and higher education, diversity, equity and inclusion will be incorporated into all areas of the competition.
"With explicit efforts tied to outreach, recruiting, and retention of these students, the team will be able to use the EcoCAR project to promote engineering identity for new groups of young students," said Christine Julien, associate dean for diversity, equity, and inclusion in the Cockrell School. "The EcoCAR EV competition is also enabling our undergraduate and graduate students to learn how to work together on diverse teams and how listening to and collaborating with those who come from backgrounds and perspectives different from their own can lead to the most impactful solutions."
The universities will receive more than $6 million in funding over the four-year competition. Each year will feature specific goals and competitions. Beyond the general parameters of efficiency, autonomy and connectivity, there is a lot of wiggle room for the teams to figure out how to accomplish the competition goals and address real-world challenges.
"There's no limit on what we can do," Wang said. "It's all up to our team to design the improvements and validate their ideas."
The other 12 university teams involved in the competition are:
Embry-Riddle Aeronautical University/ Bethune-Cookman University
Georgia Institute of Technology
Illinois Institute of Technology
McMaster University (Canada)
Mississippi State University
Ohio State University / Wilberforce University
University of Alabama
University of California, Riverside
University of California, Davis
University of Waterloo (Canada)
Virginia Tech
West Virginia University
GM will provide vehicle components, seed money, technical mentoring and operational support. MathWorks will provide teams with a full suite of software tools, simulation models, training, technical mentoring and operational support. DOE and its research and development facility, Argonne National Laboratory, will provide competition management, team evaluation and logistical support. Other sponsors provide hardware, software and training.
"I am thrilled and proud to see our Texas Engineering students as finalists in the EcoCAR EV Challenge, which addresses the nation's biggest mobility obstacles," said Roger T. Bonnecaze, interim dean of the Cockrell School." These types of hands-on, team-based opportunities that tackle real-world challenges are at the core of what we teach across all engineering disciplines in the Cockrell School."