Graduation and Commencement
We are excited to celebrate the Class of 2022 with our Graduate Recognition Celebrations!
The M.S. and Ph.D. celebration will be held on Thursday, May 19, and the B.S. celebration will be held on Friday, May 20. Both will be held in the Atrium of the Engineering Education and Research Center, with photo opps and refreshments on the EER East Lawn. We are excited to give Texas Engineering graduates and families the opportunity for a more personal college graduation event on Thursday and Friday, followed by the larger, more traditional pomp and circumstance of the University-Wide Commencement Ceremony on Saturday.
What to expect
at your
Graduate Recognition Celebration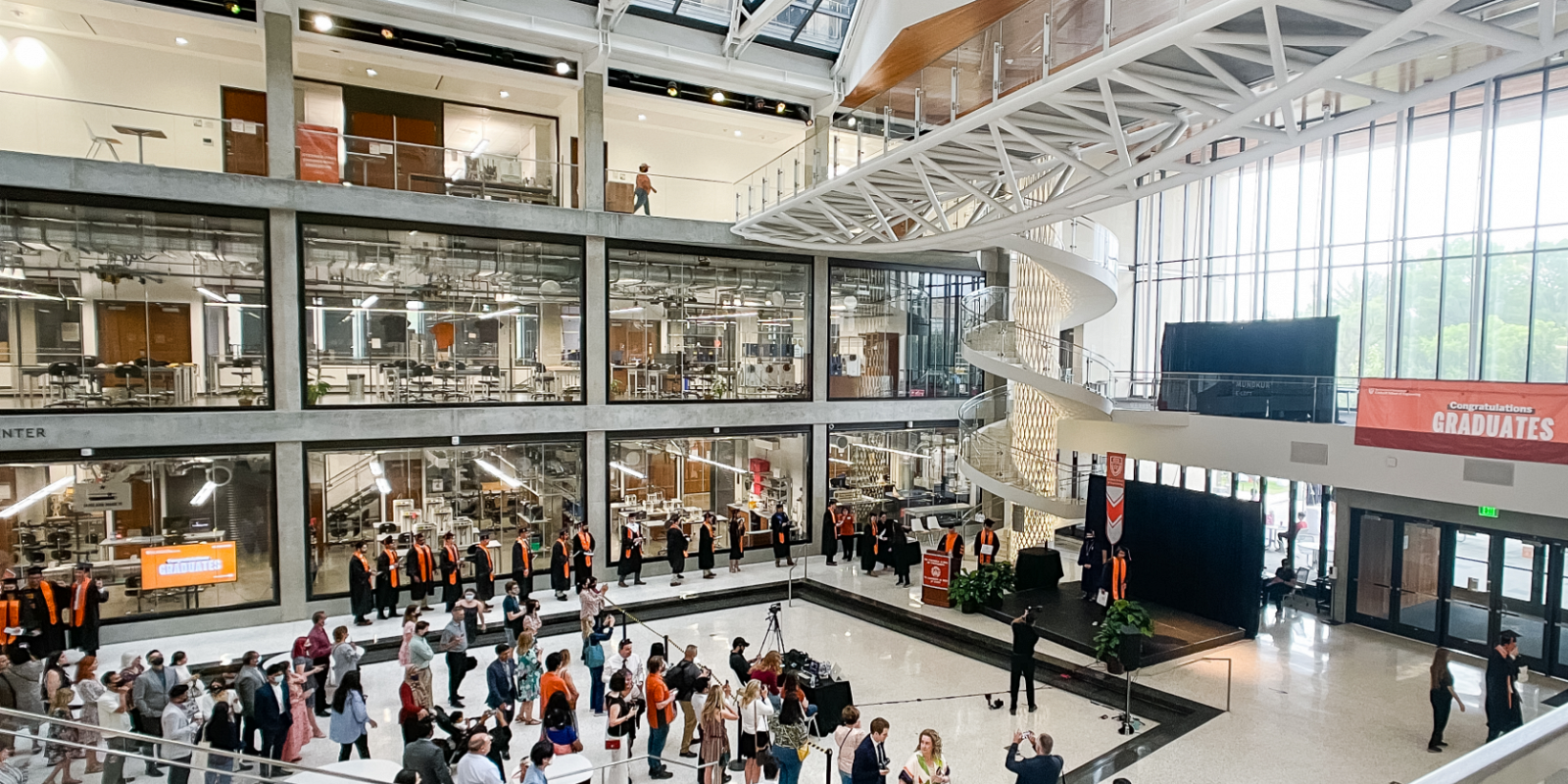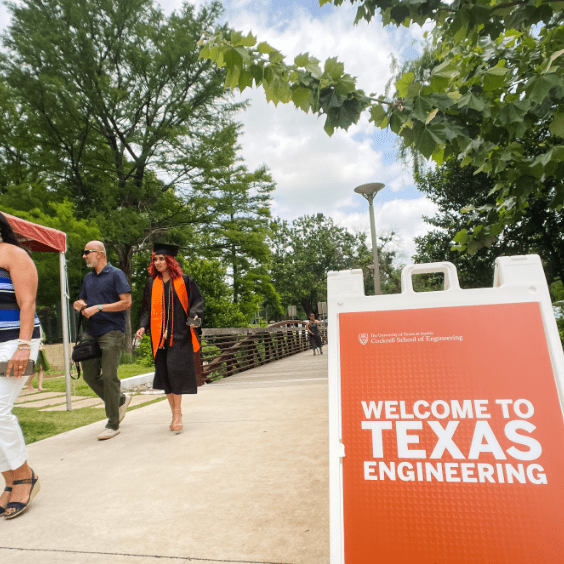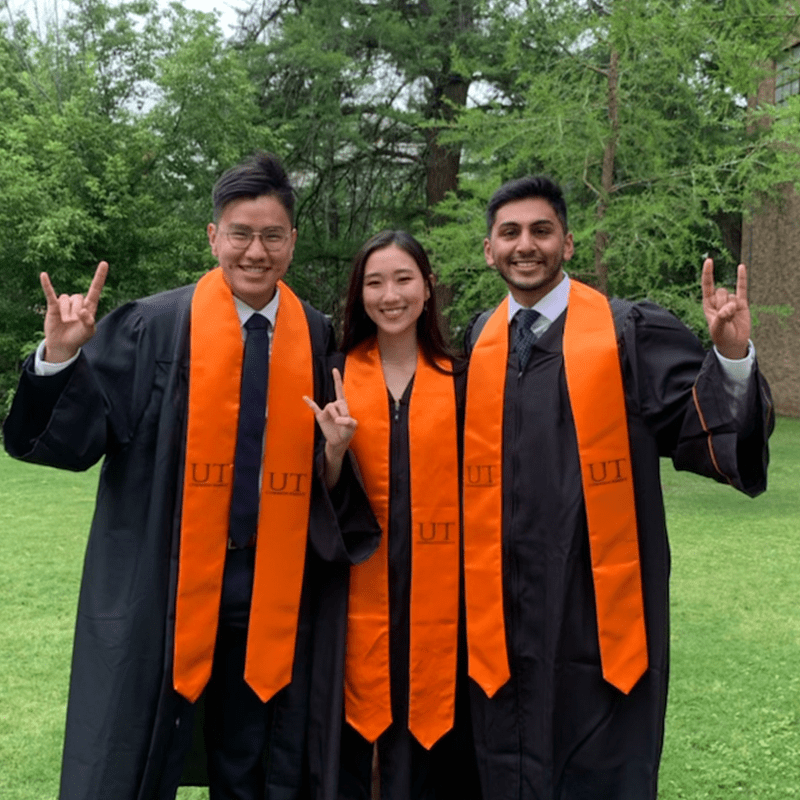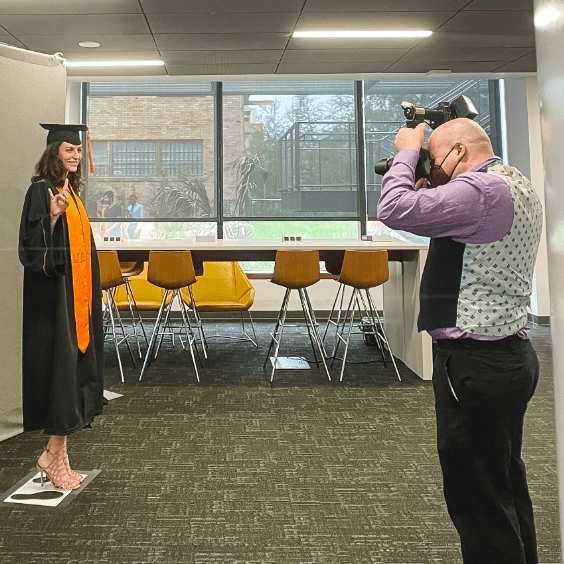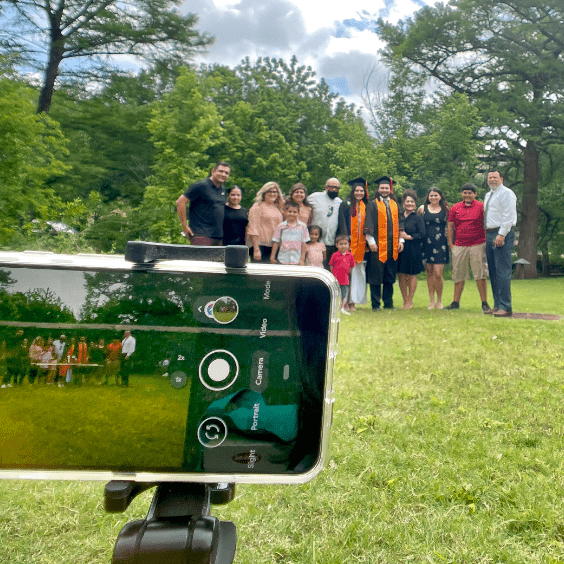 What to Expect
The stage setup in the Atrium will provide a more personal, close-knit setting, with excellent photo opportunities and moments as families and guests will be right in front of the stage as students walk across.
Students get to walk across the stage with their friends and peers from their programs and have their names called, with department faculty in attendance to celebrate. A professional photographer will take formal photos of students on and off stage.
A tent, refreshments and several informal photo stations will be available outside on the EER East Lawn.
All of a student's guests may come inside to participate in the celebration. No tickets are required.
Ph.D. students will be hooded during their celebration.
All students will receive a celebratory gift.
Graduate Recognition Celebrations Schedule
Location
Engineering Education and Research Center (EER)
2501 Speedway
Austin, TX 78712
Parking and Entrance

Free parking will be available to graduates and guests in nearby garages:
San Jacinto Garage
2401 San Jacinto Blvd.
Enter EER from San Jacinto by walking across the Waller Creek Bridge. Look for the balloons!
Speedway Garage
105 E. 27th St.
Enter EER from Speedway by walking across Dean Keeton.
Accommodations
If you need accommodations for Cockrell School Graduate Recognition Celebrations or the University-Wide Commencement Ceremony, please notify us at This email address is being protected from spambots. You need JavaScript enabled to view it. two weeks in advance of the celebration.
Graduate Student Celebration - Thursday, May 19, 2022
M.S. Students
9 AM
Ph.D. Students
10 AM
Undergraduate Student Celebration - Friday, May 20, 2022
Students will check in by department. Please arrive 15 minutes before your scheduled time.
Aerospace and Computational Engineering (ASE/COE)
9 AM
Biomedical Engineering (BME)
10 AM
Civil, Architectural and Environmental Engineering (CE/ARE/EVE)
10:45 AM
Chemical Engineering (CHE)
12 PM
Electrical and Computer Engineering (ECE)
1 PM
Mechanical Engineering (ME)
3 PM
Petroleum Engineering and Geosystems Engineering and Hydrogeology (PGE/GEH)
4:15 PM
Regalia
Graduates are expected to wear regalia, which may be purchased or borrowed. A regalia package is available for purchase from the University Co-op. Please note that the appropriate tassel and stole color for the Cockrell School of Engineering is bright orange.
University-Wide Celebration
The Class of 2022 University-Wide Commencement Ceremony will be held on Saturday, May 21, at Darrell K Royal-Texas Memorial Stadium, at 8 PM. UT President Jay Hartzell will confer degrees, the UT Tower will be lit orange in honor of the graduates, and the celebration concludes with a fireworks display. This year's Commencement speaker is UT alumnus Emmanuel Acho, a New York Times bestselling author, Emmy Award-Winning host and television analyst, and former NFL linebacker. For more information, visit commencement.utexas.edu.
Additional Information
The Cockrell School's graduation celebrations only occur in the spring semester for graduates and candidates of that academic year (past fall, current spring and future summer.) Participation ("walking") in the graduation ceremony/recognition is optional.
Undergraduates: If you are planning on graduating in May 2022 or August 2022, please visit ENGR Direct Students for more details about applying to graduate.
Graduate Students: If you are planning on graduating in May 2022 please visit UT's Graduate School website for more details about applying to graduate and submitting materials.